Preliminary Experience of Applying of Selective Arterial Embolization as Minimally Invasive Method of Treatment of Benign Prostatic Hyperplasia
Keywords:
benign prostatic hyperplasia, selective arterial embolization
Abstract
Choice of method of treatment of benign prostatic hyperplasia (BPH) in old-aged patients with high operative risk is an actual problem of modern urology. Selective arterial embolization (SAE) of the prostate – is a new method of treatment of the lower urinary tract symptoms caused by benign prostatic hyperplasia. The article presents preliminary experience of performing this procedure in the group of 16 patients with high operative risk, describes indications, criteria of patients election, technique of the procedure, results and prospects of utilization of this method in the clinical practice.
References
Vozianov O.F. Urologija: Pidruchnik dlja medinstitutiv / O.F. Vozianov. – K.: Vishha shkola, 2002. – 721 s.
Dedov I.I., Shestakova M.V. Algoritmy specializirovannoj medicinskoj pomoshhi bol'nym saharnym diabetom. Vypusk 5. – M., 2011.
Kurbatov D.G. Rentgenojendovaskuljarnaja okkljuzija arterij prostaty – al'ternativnyj innovacionnyj metod lechenija bol'nyh adenomoj predstatel'noj zhelezy bol'shih razmerov / D.G. Kurbatov, S.A. Dubskij, I.I. Sitkin. // Urologija. – 2013. – № 2.
Sajdakova N.O. Osnovni pokazniki urologichnoi' dopomogi v Ukrai'ni za 2008–2009 rik (vidomche vidannja) / N.O. Sajdakova, L.M. Starceva. – K., 2009.
Berry S.J. The development of human benign prostatic hyperplasia with age / S.J. Berry, D.S. Coffy, P.S. Walsh et al. // J. Urol. – 1984. – Vol. 132. – P. 474–479.
Carnevale FC, Antunes AA, da Motta Leal Filho JM (2010) Prostatic artery embolization as a primary treatment for benign prostatic hyperplasia: preliminary results in two patients / Cardiovasc Intervent Radiol 33:355–361.
Leyh H. Transurethral prostatectomy: management of complications / Leyh H., Necknig U. // Urologe A. – 2014. – № 53. – S. 699–705.
Meta-analysis of functional outcomes and complications following transurethral procedures for lower urinary tract symptoms resulting from benign prostatic enlargement. / Ahyai S.A., Gilling P., Kaplan S.A. ta in.]. // European Urology. – 2010. – № 58. – S. 384–397.
Prostatic arterial embolization for benign prostatic hyperplasia: shortand intermediate-term results / Pisco J.M., Pinheiro L.C., Bihim T. ta in.]. // Radiology. – 2013. – №266. – S. 668–677.
Relief of benign prostatic hyperplasia-related bladder outlet obstruction after transarterial polyvinyl alcohol prostate embolization. / DeMeritt J.S., Elmasri F.F., Esposito M.P., Rosenberg G.S. // J Vasc Interv Radiol. – 2000. – № 11. – S. 767–770.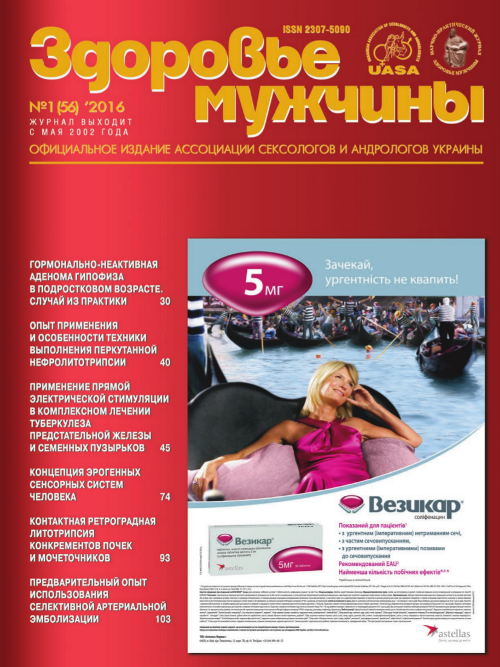 Downloads
License
Copyright (c) 2020 С. В. Головко, О. В. Циц, А. А. Кобірніченко, О. Ф. Савицький, І. Л. Троіцький
This work is licensed under a Creative Commons Attribution-NonCommercial-NoDerivatives 4.0 International License.
The journal does not require authors of original (primary) research papers to assign the copyright of their published contributions. Authors grant the journal an non-exclusive licence  CC BY 4.0 (Creative Commons Attribution 4.0 International License) to using and the first publication of the original in this journal. Copyright of the manuscripts is retained by the authors, after publication authors retain rights to reuse their papers in their future printed work without first requiring permission from the publisher of the journal and share their own published articles.
The journal supports the self-archiving process. Prior to publication in the journal, authors may post a copy of their manuscript in preparation or submitted to the journal in recognized non-commercial preprint servers, public websites.  Authors also are encouraged to archive their final author version of the manuscript in their institution's repositories and, if they wish, on their personal websites. Authors should cite the publication reference and DOI number on the first page of any deposited version, and provide a link from it to the URL of the published article on the journal's website.
To facilitate self-archiving of original research papers and help authors fulfil funder and institutional mandates, the journal deposits manuscripts in National Library of Ukraine by V.I. Vernadsky, Scientific periodicals of Ukraine database and different international scintificd database on behalf of authors who opt-in to this free service during submission. The journal provides depositing of articles on official website of the publisher. The full text access to published papers is free.