Fundamental diagnosis of patients with combined pathology of neurogenic lower urinary tracts and distal colon
Keywords:
neurogenic bowel dysfunction, neurogenic bladder disorders, uroflowmetry, electromyography, detrusor
Abstract
The methods of diagnosis of patients with combined pathology of neurogenic lower urinary tract and distal colon are presented. It was found that to exclude the organic diseases of the kidneys, urinary tract, gastrointestinal tract and central nervous system, they should be thoroughly investigated urologically, neurologically, gastroenterologically, roentgenologically. It was found that the electromyography, urokolonodinamic studies reflect the functional state of lower urinary tracts and distal colon, is an objective criterion for the diagnosis, to study the causes and pathophysiological mechanisms of comorbidity.
References
Pirogov V.O. Giperaktivnyj mochevoj puzyr' – podvodnyj kamen' urologii / Pirogov V.O., Zajcev V.I., Sevastjanova N.A., Andrejeva I.A.// Zdorov'e muzhchiny. – 2006. – № 4 (19).
Sejmivs'kij D.A. Zapalennja nirok i sechovogo mihura v ditej rann'ogo viku / D.A. Sejmivs'kij. – K.: Medkniga, 2009. – 60 s.
De Wachter S., de Jong A., Van Dyck J., Wyndaele J.J. Interaction of filling related sensation between anorectum and lower urinary tract and its impact on the sequence of their evacuation. A study in healthy volunteers. Neurourol Urodyn. 2007: 26:481–5.
Shafik A. The effect of vesical filling and voiding on the anorectal function with evidence of a 'vesico-anorectal reflex'. Neurogastroenterol Motil. 1999 Apr: 11:119–24.
Zaharash M.P., Mel'nik V.M., Pojda A.I. Metod reabilitacii bol'nyh posle jekstirpacii prjamoj kishki // Rossijskij zhurnal gastrojenterologii, gepatologii, koloproktologii, 2005. – № 5. – S. 66–72.
Birder L., de Groat W., Mills I., Morrison J., Thor K., Drake M. Neural control of the lower urinary tract: peripheral and spinal mechanisms. Neurourol Urodyn. 2010: 29:128–39.
Drake M.J., Fowler C.J., Griffiths D., Mayer E., Paton J.F., Birder L. Neural control of the lower urinary and gastrointestinal tracts: supraspinal CNS mechanisms. Neurourol Urodyn. 2010: 29:119–27.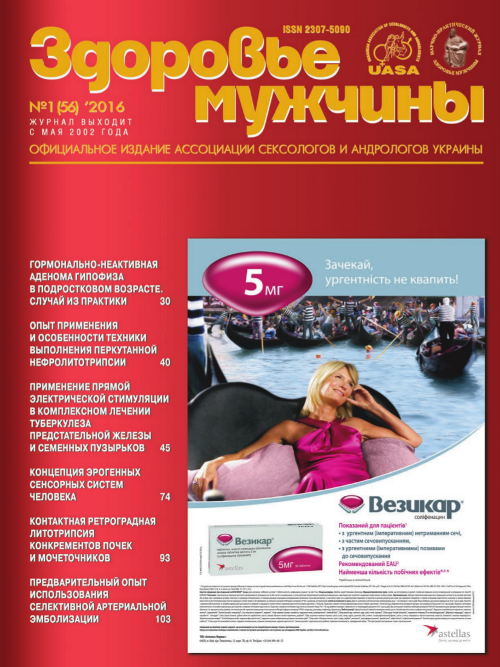 Downloads
Section
For practicing physicians
License
Copyright (c) 2020 В. О. Пирогов, М. П. Захараш, Н. А. Севастьянова, Ю. М. Захараш, П. В. Чабанов, А. П. Луцик
This work is licensed under a Creative Commons Attribution-NonCommercial-NoDerivatives 4.0 International License.
The journal does not require authors of original (primary) research papers to assign the copyright of their published contributions. Authors grant the journal an non-exclusive licence  CC BY 4.0 (Creative Commons Attribution 4.0 International License) to using and the first publication of the original in this journal. Copyright of the manuscripts is retained by the authors, after publication authors retain rights to reuse their papers in their future printed work without first requiring permission from the publisher of the journal and share their own published articles.
The journal supports the self-archiving process. Prior to publication in the journal, authors may post a copy of their manuscript in preparation or submitted to the journal in recognized non-commercial preprint servers, public websites.  Authors also are encouraged to archive their final author version of the manuscript in their institution's repositories and, if they wish, on their personal websites. Authors should cite the publication reference and DOI number on the first page of any deposited version, and provide a link from it to the URL of the published article on the journal's website.
To facilitate self-archiving of original research papers and help authors fulfil funder and institutional mandates, the journal deposits manuscripts in National Library of Ukraine by V.I. Vernadsky, Scientific periodicals of Ukraine database and different international scintificd database on behalf of authors who opt-in to this free service during submission. The journal provides depositing of articles on official website of the publisher. The full text access to published papers is free.