Combined treatment of benign prostatic hyperplasia
Keywords:
benign prostatic hyperplasia, chronic prostatitis, combined therapy, transrectal microwave thermotherapy, -blockers
Abstract
The article described the modern state of relevance, diagnostics, treatment, clinical symptoms of benign prostatic hyperplasia (ВРН). Established that the transrectal microwave effect in combination therapy in patients with BPH achieves lasting results. This treatment has a positive clinical effect and lasting result of treatment of BPH in its initial stage.
References
Apolihin O.I. Primenenie metodov gipertermija, termoterapii, termoablacii v lechenii dobrokachestvennoj giperplazii predstatel'noj zhelezy: Avtref. dis. … d-ra med. nauk. – M., 1996. – 32 s.
Varencov G.I. Ob#ektivizacija kontrolja za konservativnym lecheniem bol'nyh s adenomoj predstatel'noj zhelezy //Adenoma predstatel'noj zhelezy. Sbornik nauchnyh trudov. – M., 1987. – S. 104.
Veshkurcev V.V., Voronov A.K., Ljajht Je.H. i soavt. Teplovaja jenergija v lechenii dobrokachestvennoj giperplazii prostaty (DGP): Tez. dokl. IX Vserossijskij s#ezd urologov, Kursk–M., 1997. – S. 213.
orilovskij L.M., Dobrohotov M.A., Modorskij M.I. Lechenie dobrokachestvennoj giperplazii predstatel'noj zhelezy (DGPZh) termoterapiej: Tez. dokl. IX Vserossijskij s#ezd urologov, Kursk–M., 1997. – S. 217.
Gorilovskij L.M. // Dobrokachestvennaja giperplazija predstatel'noj zhelezy / Pod red. N.A. Lopatkina. – M., 1997. – S. 10–18.
Krivoborodov G.G., Koblov N.L., Malenko V.P. i soavt. Otdalennye rezul'taty lokal'noj transrektal'noj gipertermii u bol'nyh s dobrokachestvennoj giperplaziej prostaty i ee oslozhnenija // Urol. i nefrol. 1995. – № 6. – S. 47–48.
Krivoborodov G.G., Lokal'naja transrektal'naja gipertermija v lechenii adenomy predstatel'noj zhelezy i ee oslozhnenij: Avtref. dis. … d-ra med. nauk. – M., 1994. – S. 28 s.
Reznik M.I., Sheffer Je.Dzh. Urologija: per. s angl. – M.: BINOM; SPb.: Nevskij dialekt, 2002. – 264 s.
Harchilava R.R. Ocenka informativnosti sovremennyh metodov issledovanija bol'nyh giperplaziej prostaty pri planirovanii i osushhestvlenii transuretral'noj rezekcii. – M., 2005.
Jenciklopedija lekarstv /Pod red. G.L. Vyshkovskogo. – Vyp. 10. – M.: OOO «RLS-2003», 2003.
Montorsi F., Moncada I. Safety and tolerability of treatment for BPH // Eur. Urol. Sappl. – 2006. – 5. – P. 1005.
Hellstrom W., Smith W., Sikka C. Effects of alpha-blockers on ejaculatory function in normal subjects // Program and abstracts of the American Urological Association Annual Meeting. May 21–26. 2005. San Antonio, Texas. Abstract. – P. 874.
Marks L.S. Preventing BPH Disease in asimptomatic Men at risk of progression. UAU. April/May 2006.
Wein A. J. et al. Campbell-Walsh Urology // Saunders, 9th ed., 2006.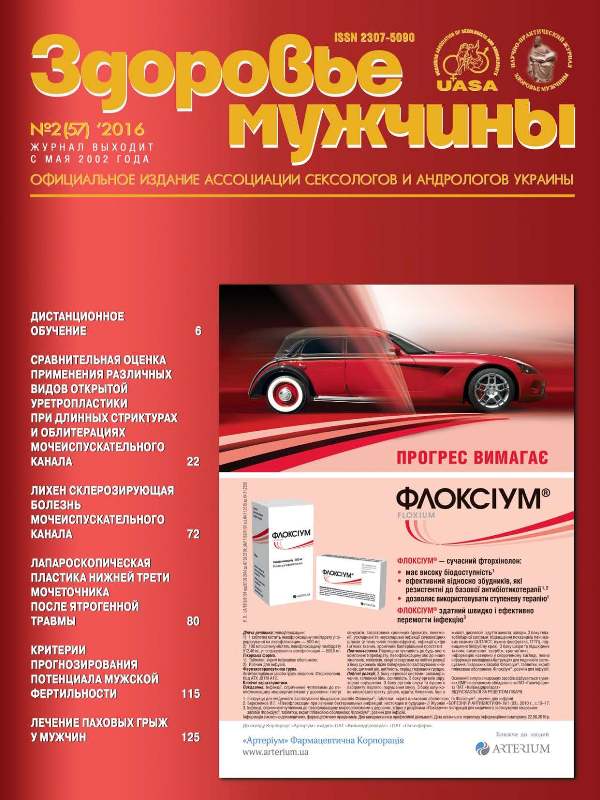 Downloads
License
Copyright (c) 2020 О. О. Люлько, О. О. Бурназ, І. М. Нікітюк, О. С. Сагань, В. А. Депутат
This work is licensed under a Creative Commons Attribution-NonCommercial-NoDerivatives 4.0 International License.
The journal does not require authors of original (primary) research papers to assign the copyright of their published contributions. Authors grant the journal an non-exclusive licence  CC BY 4.0 (Creative Commons Attribution 4.0 International License) to using and the first publication of the original in this journal. Copyright of the manuscripts is retained by the authors, after publication authors retain rights to reuse their papers in their future printed work without first requiring permission from the publisher of the journal and share their own published articles.
The journal supports the self-archiving process. Prior to publication in the journal, authors may post a copy of their manuscript in preparation or submitted to the journal in recognized non-commercial preprint servers, public websites.  Authors also are encouraged to archive their final author version of the manuscript in their institution's repositories and, if they wish, on their personal websites. Authors should cite the publication reference and DOI number on the first page of any deposited version, and provide a link from it to the URL of the published article on the journal's website.
To facilitate self-archiving of original research papers and help authors fulfil funder and institutional mandates, the journal deposits manuscripts in National Library of Ukraine by V.I. Vernadsky, Scientific periodicals of Ukraine database and different international scintificd database on behalf of authors who opt-in to this free service during submission. The journal provides depositing of articles on official website of the publisher. The full text access to published papers is free.