Efficiency of Nimesil in the case of chronic prostatitis/chronic pelvic pain syndrome in men
Keywords:
chronic prostatitis with chronic pelvic pain syndrome, nonspecific anti-inflammatory agents, results of treatment
Abstract
The aim of the study: to study the efficacy of one of not steroid antiinflammatory drugs (NSAIDs) class sulfonamide nimesulide (Nimesil) among middle-aged men with CP/CPPS. Materials and methods. A study was conducted on a selective competitive inhibitor cycloxygenase-2 nimesulide 88 among middle-aged men with CP/CPPS. Group 1 (n=40) consisted of patients who were assigned to levofloxacin 500 mg 2 times a day. Group 2 (n=48) included men who received levofloxacin 500 mg 2 times a day and Nimesil (company Berlin-Chemie AG, Germany) по100 mg 2 times a day for 3 weeks. To obtain objective symptoms at baseline and after 3 weeks of treatment used the International scale prostatic symptoms (IPSS) and the index of the symptoms of prostatitis the National institutes of health (NIH-CPSI). Results. The mean change in total IPSS in comparison with the initial, was higher in group 2 than in group 1 (group 1 and 1.1, group 2 and 4.3; p<0.05). Significant improvement was noted in subscale urination index IPSS (group 1 and 0.7, group 2 is 3.0; p <0.05). Change of index the NIH-CPSI in group 2 was significantly more pronounced than in group 1 (group 1 3, 2-group 2 7,2; p <0,05). Significant changes were noted in the domains of urination (group 1 0.5, and group 2 1,7; p<0.05) and quality of life (group 1 1.0 for group 2 and 1.8; p<0.05) index of the NIH-CPSI. Conclusion. Nimesil (100 mg 2 times a day was well tolerated and significantly improved symptoms of CP/CPPS in men of middle age. Nimesil can be a useful drug for the treatment of CP/CPPS as a monotherapy and in combination with other drugs for empirical therapy.
References
Krieger J.N., Nyberg L.Jr., Nickel J.C. NIH consensus definition and classification of prostatitis. JAMA 1999;282:236–7.
Strauss A.C., Dimitrakov J.D. New treatments for chronic prostatitis/chronic pelvic pain syndrome. Nat Rev Urol 2010;7:127–35.
Issa W., Roumeguere T., Bossche M.V. Chronic pelvic pain syndrome. Rev Med Brux 2013;34:29–37.
Pontari M.A., Ruggieri M.R. Mechanisms in prostatitis/chronic pelvic pain syndrome. J Urol 2004;172:839–45.
Nickel J.C. Prostatitis and related conditions, orchitis, and epididymitis. In: Wein A.J., Kavoussi L.R., Novick A.C., Partin A.W., Peters C.A., editors. Campbell-Walsh urology. 10th ed. Philadelphia: Saunders; 2012;327–71.
Pontari M., Giusto L. New developments in the diagnosis and treatment of chronic prostatitis/chronic pelvic pain syndrome. Curr Opin Urol 2013;23:565–9.
Nickel J.C., Narayan P., McKay J., Doyle C. Treatment of chronic prostatitis/chronic pelvic pain syndrome with tamsulosin: a randomized double blind trial. J Urol 2004;171: 1594–7.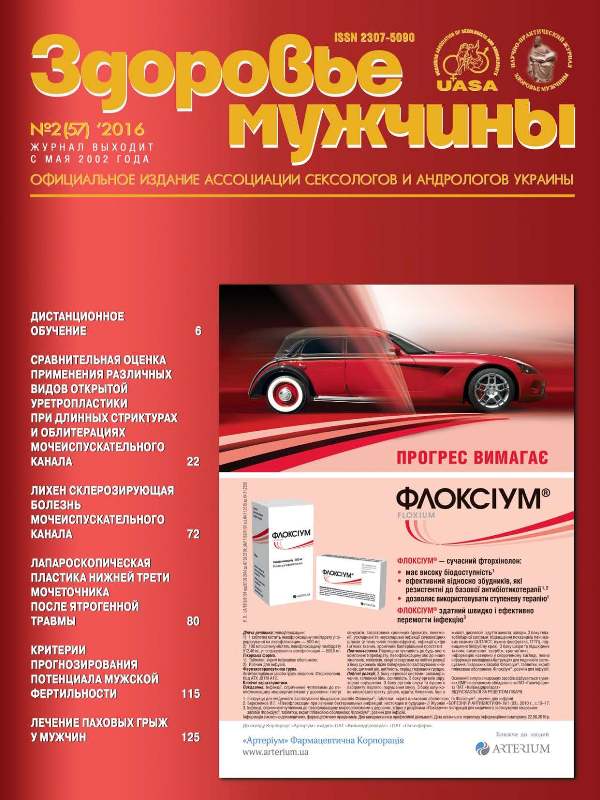 Downloads
Section
For practicing physicians
License
Copyright (c) 2020 М. Г. Романюк, О. М. Корнієнко, П. В. Аксьонов
This work is licensed under a Creative Commons Attribution-NonCommercial-NoDerivatives 4.0 International License.
The journal does not require authors of original (primary) research papers to assign the copyright of their published contributions. Authors grant the journal an non-exclusive licence  CC BY 4.0 (Creative Commons Attribution 4.0 International License) to using and the first publication of the original in this journal. Copyright of the manuscripts is retained by the authors, after publication authors retain rights to reuse their papers in their future printed work without first requiring permission from the publisher of the journal and share their own published articles.
The journal supports the self-archiving process. Prior to publication in the journal, authors may post a copy of their manuscript in preparation or submitted to the journal in recognized non-commercial preprint servers, public websites.  Authors also are encouraged to archive their final author version of the manuscript in their institution's repositories and, if they wish, on their personal websites. Authors should cite the publication reference and DOI number on the first page of any deposited version, and provide a link from it to the URL of the published article on the journal's website.
To facilitate self-archiving of original research papers and help authors fulfil funder and institutional mandates, the journal deposits manuscripts in National Library of Ukraine by V.I. Vernadsky, Scientific periodicals of Ukraine database and different international scintificd database on behalf of authors who opt-in to this free service during submission. The journal provides depositing of articles on official website of the publisher. The full text access to published papers is free.