Opportunities for Unsalted Management of the Postoperative Period in Patients with Uncomplicated Ureterolithiasis
Keywords:
non-drainage management of patients, ureterolithiasis, postoperative period, risk factors, uncomplicated ureteral stone
Abstract
When performing surgeries for ureteral stones, ureteral stenting is traditionally performed to avoid obstruction of the ureter in the postoperative period due to edema or stone fragments. Modern technical advances allow ureteroscopy to be performed relatively atraumatically and to avoid routine ureteral stenting, which makes it possible to exclude exacerbations of pyelonephritis caused by reflux, reduce stent costs, improve the quality of life in the postoperative period, and avoid cystoscopy for dentition.
The objective: studying the possibility of non-drainage management of the postoperative period, identifying risk factors for postoperative complications in patients with uncomplicated ureteral stones.
Materials and methods. The analysis of the results of treatment of 198 patients with uncomplicated ureterolithiasis, in whom it was decided to refuse stenting after ureteroscopy, was carried out.
Results. The analysis of the condition of patients in the postoperative period was carried out. To identify the factors influencing the decision on non-drainage management of the patient in the postoperative period, as well as factors that could be predictors of postoperative complications, we analyzed various indicators.
Conclusions. In the case of uncomplicated ureterolithiasis, in most cases (in 68.2 % of patients) in the postoperative period, there is no need to drain the upper urinary tract using a stent. At the same time, in a number of cases – namely in 31.8 % of patients – upon refusal to install a stent, complications arose that significantly influenced the duration and cost of treatment, in some cases requiring an increase in the volume of therapy, additional procedures – installation stent and puncture nephrostomy.
References
Рощин Ю.В. Обґрунтування вибору лікувальної тактики у хворих на уретеролітіаз на основі прогнозування ефективності сучасних методів еліминації конкрементів / Ю.В. Рощин: Автореф. дис. … д-ра мед. наук. – Донецьк, 2009. – 40 с.
Bagley, D.H. Expanding role of ureteroscopy and laser lithotripsy for treatment of proximal ureteral and intrarenal calculi. Curr. Opin. Urol. 2018; 12: 277–280.
Chaussy, C, Schmiedt, E, Jochan, D, Brendel, W, Forssmann, B, and Walther, V. First clinical experience with extracorporeally induced destruction of kidney stones by shock waves. J. Urol. 2012; 127: 417–420.
Cummings, J.M, Boullier, J.A, Izenberg, S.D, Kitchens, D.M, and Kothandapani, R.V. Prediction of spontaneous ureteral calculus passage by an artificial neural network. J. Urol. 2016; 164: 326–328.
Kourambas, J, Byrne, B.R, and Preminger, G.M. Does a ureteral access sheath facilitate ureteroscopy?. J. Urol. 2014; 165: 789–793.
Miller, O.F and Kane, C.J. Time to stone passage for observed ureteral calculi: a guide for patient selection. J. Urol. 2018; 162: 688–691.
Segura, J.W, Preminger, G.M, Assimos, D.G, Dretler, S.P, Kahn, R.I, Lingeman, J.E, and Macaluso, J.N Jr. Ureteral Stones Clinical Guidelines Panel Summary report on the management of ureteral calculi. J. Urol. 2017; 158: 1915–1921.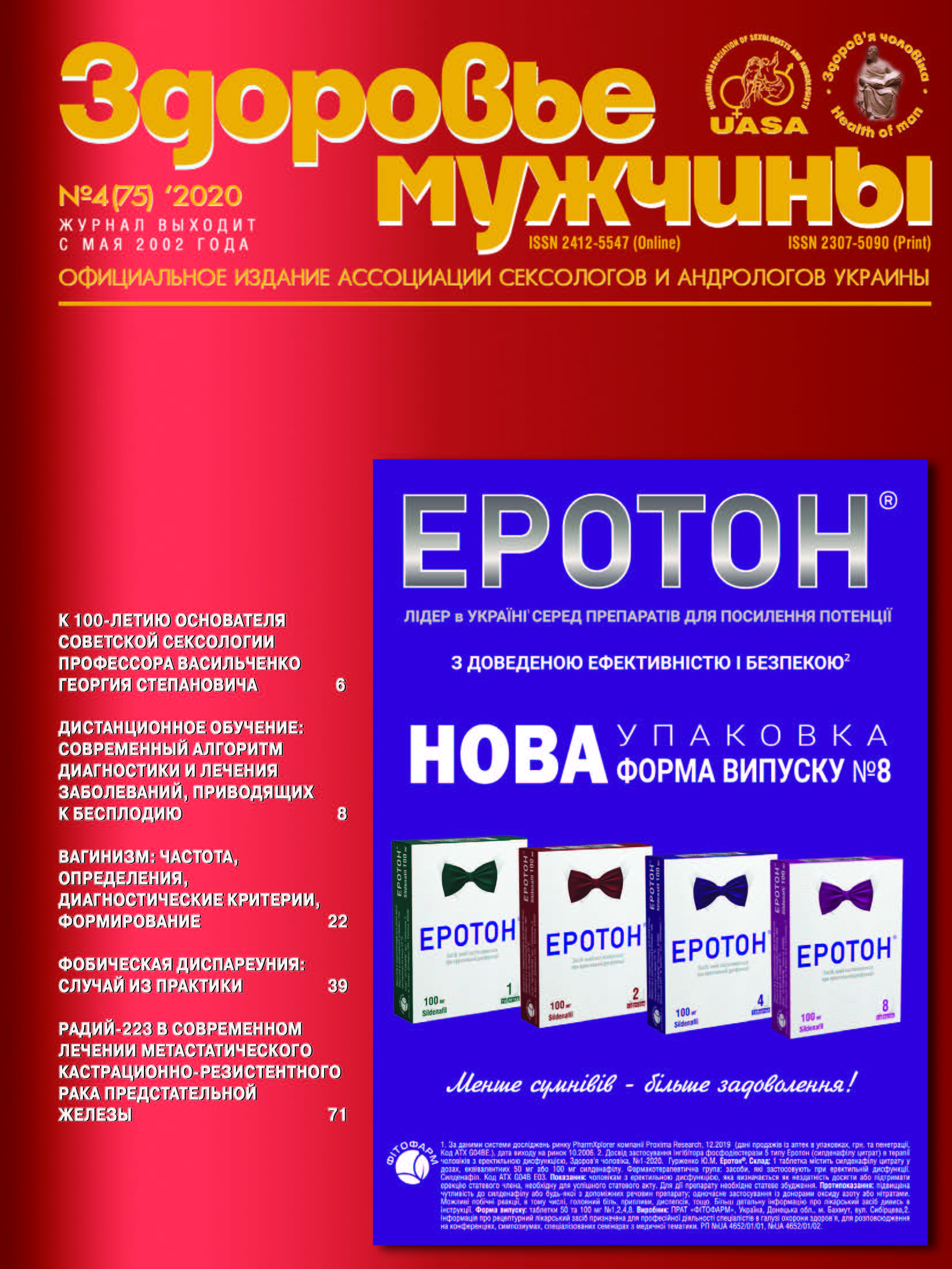 Downloads
Section
For practicing physicians
License
Copyright (c) 2020 Oleh Nikitin, Yurii Roshchyn, Ihor Komisarenko, Oleksandr Fukszon, Sviatoslav Smikhun
This work is licensed under a Creative Commons Attribution-NonCommercial-NoDerivatives 4.0 International License.
The journal does not require authors of original (primary) research papers to assign the copyright of their published contributions. Authors grant the journal an non-exclusive licence  CC BY 4.0 (Creative Commons Attribution 4.0 International License) to using and the first publication of the original in this journal. Copyright of the manuscripts is retained by the authors, after publication authors retain rights to reuse their papers in their future printed work without first requiring permission from the publisher of the journal and share their own published articles.
The journal supports the self-archiving process. Prior to publication in the journal, authors may post a copy of their manuscript in preparation or submitted to the journal in recognized non-commercial preprint servers, public websites.  Authors also are encouraged to archive their final author version of the manuscript in their institution's repositories and, if they wish, on their personal websites. Authors should cite the publication reference and DOI number on the first page of any deposited version, and provide a link from it to the URL of the published article on the journal's website.
To facilitate self-archiving of original research papers and help authors fulfil funder and institutional mandates, the journal deposits manuscripts in National Library of Ukraine by V.I. Vernadsky, Scientific periodicals of Ukraine database and different international scintificd database on behalf of authors who opt-in to this free service during submission. The journal provides depositing of articles on official website of the publisher. The full text access to published papers is free.