Using Extracorporeal Shock Wave Lithotripsy of Kidney Stones and the Upper Third of the Ureters
Keywords:
extracorporeal shock wave lithotripsy, renal hematoma, ethamsylate, tranexamic acid
Abstract
The objective: of the study was evaluate efficiency and safety of ethamsylate and tranexamic acid administration for prevention of the hemorrhagic complications of ESWL.

Materials and methods. Patient with urinary stone diseases (stone localized in kidney or upper part of urether) without coagulation disorders and who did not take medicines that affect the blood coagulation system was included. All patient was undergo ESWL. The group І included 1400 patients who did not receive preventive antihemorrhagic therapy. Group II – 375 patients who received 250 mg ethamsilate intravenously before the ESWL session. Group III – 300 patients – 500 mg tranexamic acid intravenously. During the postoperative period, the occurrence of kidney hematomas, prolonged macrohematuria and the occurrence of diseases associated with hypercoagulation were assessed.

Results. Group I: hemorrhagic complications were found in 52 (3.71 %) patients; 19 (1.36 %) people had renal hematomas, and 33 (2.36 %) had prolonged macrohematuria. In group II –3 (0.8 %) patients had hematomas and 3 (0.8%) – prolonged macrohematuria. In the group ІІІ, there was no hematomas and only 2 (0.67 %) patients had macrohematuria. The number of hemorrhagic complications in the tranexamic acid group was lower than in the control one (p=0.006). More severe complications predominated in the control group, compared with patients receiving hemostatic. None of the experimental groups didn't show an increase in the frequency of pathology associated with hypercoagulation.

Conclusions. ethamsylate and tranexamic acid can reduces the likelihood of renal hematoma and prolonged macrohematuria after ESWL. We did not find any complications specific to these medicines. The use of tranexamic acid is much more effective than ethamsylate.
References
Neisius A, Wöllner J, Thomas C, Roos FC, Brenner W, Hampel C, et al. Treatment efficacy and outcomes using a third generation shockwave lithotripter. BJU Int. 2013;112(7):972–81.
D'Addessi A, Vittori M, Racioppi M, Pinto F, Sacco E, Bassi P. Complications of extracorporeal shock wave lithotripsy for urinary stones: to know and to manage them-a review. Scientific World Journal. 2012;2012:619820.
Nussberger F, Roth B, Metzger T, Kiss B, Thalmann GN, Seiler R. A low or high BMI is a risk factor for renal hematoma after extracorporeal shock wave lithotripsy for kidney stones. Urolithiasis. 2017;45(3):317–21.
Türk C, Petřík A, Sarica K, Seitz C, Skolarikos A, Straub M, et al. EAU Guidelines on Interventional Treatment for Urolithiasis. Eur Urol. 2016;69(3):475–82.
Dhar NB, Thornton J, Karafa MT, Streem SB. A multivariate analysis of risk factors associated with subcapsular hematoma formation following electromagnetic shock wave lithotripsy. J Urol. 2004;172(6 Pt 1):2271–4.
Skolarikos A, Alivizatos G, de la Rosette J. Extracorporeal shock wave lithotripsy 25 years later: complications and their prevention. Eur Urol. 2006;50(5):981–90; discussion 90.
Ng W, Jerath A, Wąsowicz M. Tranexamic acid: a clinical review. Anaesthesiol Intensive Ther.2015;47(4):339–50.
Bovelander E, Weltings S, Rad M, van Kampen P, Pelger RCM, Roshani H. The Influence of Pain on the Outcome of Extracorporeal Shockwave Lithotripsy. Curr Urol.2019;12(2):81–7.
Garay RP, Chiavaroli C, Hannaert P. Therapeutic efficacy and mechanism of action of ethamsylate, a longstanding hemostatic agent. Am J Ther.2006;13(3):236–47.
Kurt S, Tokgöz Ö, Tokgöz H, Voyvoda N. Evaluation of effects of Extracorporeal Shock Wave Lithotripsy on renal vasculature with Doppler ultrasonography. Med Ultrason. 2013;15(4):273–7.
Chakravartty S, Sarma DR, Chang A, Patel AG. Staple Line Bleeding in Sleeve Gastrectomy-a Simple and Cost-Effective Solution. Obes Surg.2016;26(7):1422–8.
Poeran J, Rasul R, Suzuki S, Danninger T, Mazumdar M, Opperer M, et al. Tranexamic acid use and postoperative outcomes in patients undergoing total hip or knee arthroplasty in the United States: retrospective analysis of effectiveness and safety. BMJ.2014;349:g4829.
Jimenez-Rivera JJ, Iribarren-Sarrías JL, Martínez-Sanz R. Tranexamic Acid in Patients Undergoing Coronary-Artery Surgery. N Engl J Med.2017;376(19):1891.
Madershahian N, Scherner M, Pfister R, Rudolph T, Deppe AC, Slottosch I, et al. Prophylactic intraoperative tranexamic acid administration and postoperative blood loss after transapical aortic valve implantation. J Cardiothorac Surg. 2015;10:45.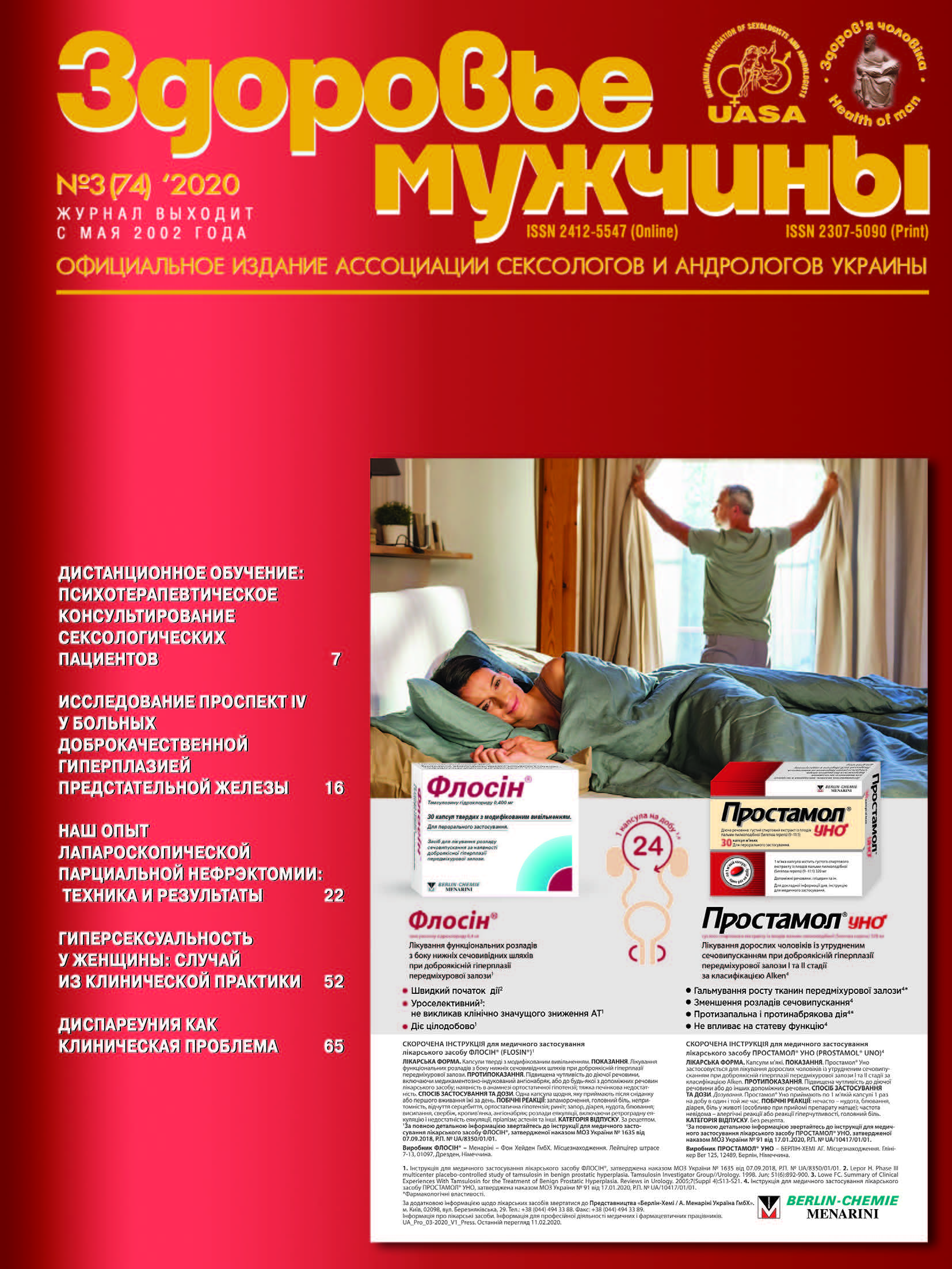 Downloads
License
Copyright (c) 2020 С. О. Возіанов, А. О. Юрах, В. О. Мазурець, О. О. Шевчук
This work is licensed under a Creative Commons Attribution-NonCommercial-NoDerivatives 4.0 International License.
The journal does not require authors of original (primary) research papers to assign the copyright of their published contributions. Authors grant the journal an non-exclusive licence  CC BY 4.0 (Creative Commons Attribution 4.0 International License) to using and the first publication of the original in this journal. Copyright of the manuscripts is retained by the authors, after publication authors retain rights to reuse their papers in their future printed work without first requiring permission from the publisher of the journal and share their own published articles.
The journal supports the self-archiving process. Prior to publication in the journal, authors may post a copy of their manuscript in preparation or submitted to the journal in recognized non-commercial preprint servers, public websites.  Authors also are encouraged to archive their final author version of the manuscript in their institution's repositories and, if they wish, on their personal websites. Authors should cite the publication reference and DOI number on the first page of any deposited version, and provide a link from it to the URL of the published article on the journal's website.
To facilitate self-archiving of original research papers and help authors fulfil funder and institutional mandates, the journal deposits manuscripts in National Library of Ukraine by V.I. Vernadsky, Scientific periodicals of Ukraine database and different international scintificd database on behalf of authors who opt-in to this free service during submission. The journal provides depositing of articles on official website of the publisher. The full text access to published papers is free.