Long-term Results of Organ-preserving Surgeries for Removal of Cystic Kidney Tumors of Category III-VI According to Bosniak
Keywords:
organ-saving operations, cystic kidney tumors, long-term results
Abstract
The objective: to study the long-term results of organ-preserving surgeries when removing cystic kidney tumors of category III – VI according to Bosniak.

Materials and methods. The study was carried out with the participation of 16 patients with verified cystic renal tumors of the category III – VI according to Bosniak. Indications for surgery were: clinical manifestations, laboratory, ultrasound, Doppler and radiation methods (MSCT with bolus contrast or MRI). The diagnosis of renal tumor process was also confirmed using histological and histochemical research methods.

Results. Long-term studies after 18 and 36 months showed no signs of recurrence of cysts or tumor process in the kidneys. Signs of a tumor process in the lymph nodes or in other organs during these periods of the study were also not found. Removal of cysts and tumors in the long term after surgery leads to a significant improvement in blood circulation in the kidneys.

Conclusion. Organ-preserving resection of a part of the kidney affected by Bosniak category III–VI cystic tumors is a modern effective method of treatment and should be an alternative to surgical removal of affected kidneys in such patients.
References
Зубарев А.В., Насникова И.Ю., Козлов В.П. Современная ультразвуковая диагностика объемных образований почек // 3-й съезд Ассоциации специалистов ультразвуковой диагностики в медицине: Тезисы докладов. Москва. 25–28 октября 1999 г. – С. 117–119.
Bosniak M.A. Problems in the radiologic diagnosis of renal parenchymal tumors. Urol. Clin. North Am. 1993; 20(2): 217–230.
Савченко А.П., Пхакадзе Е.Г., Мамаев В.В. Возможности выявления бессимптомных кист почек при компьютерной томографии // Вестник рентгенологии и радиологии. 1991, № 2. – С. 34–36.
Siegel C.L., McFarland E.G., Brink J.A. et al. CT of cystic renal masses. Analysis of diagnostic performance and interobserver variation // Am.J.Roentgenol. – 1997. – Vol. 169. – P. 813–818.
Теодорович О.В., Кадыров З.А.. Забродина Н.Б. Некоторые особенности диагностики и ретроперитонеоскопическое лечение простых, гигантских, многокамерных и осложненных кист почек // Сб.: Актуальные вопросы онкоурологии, Уфа, 2003. – С. 42–43.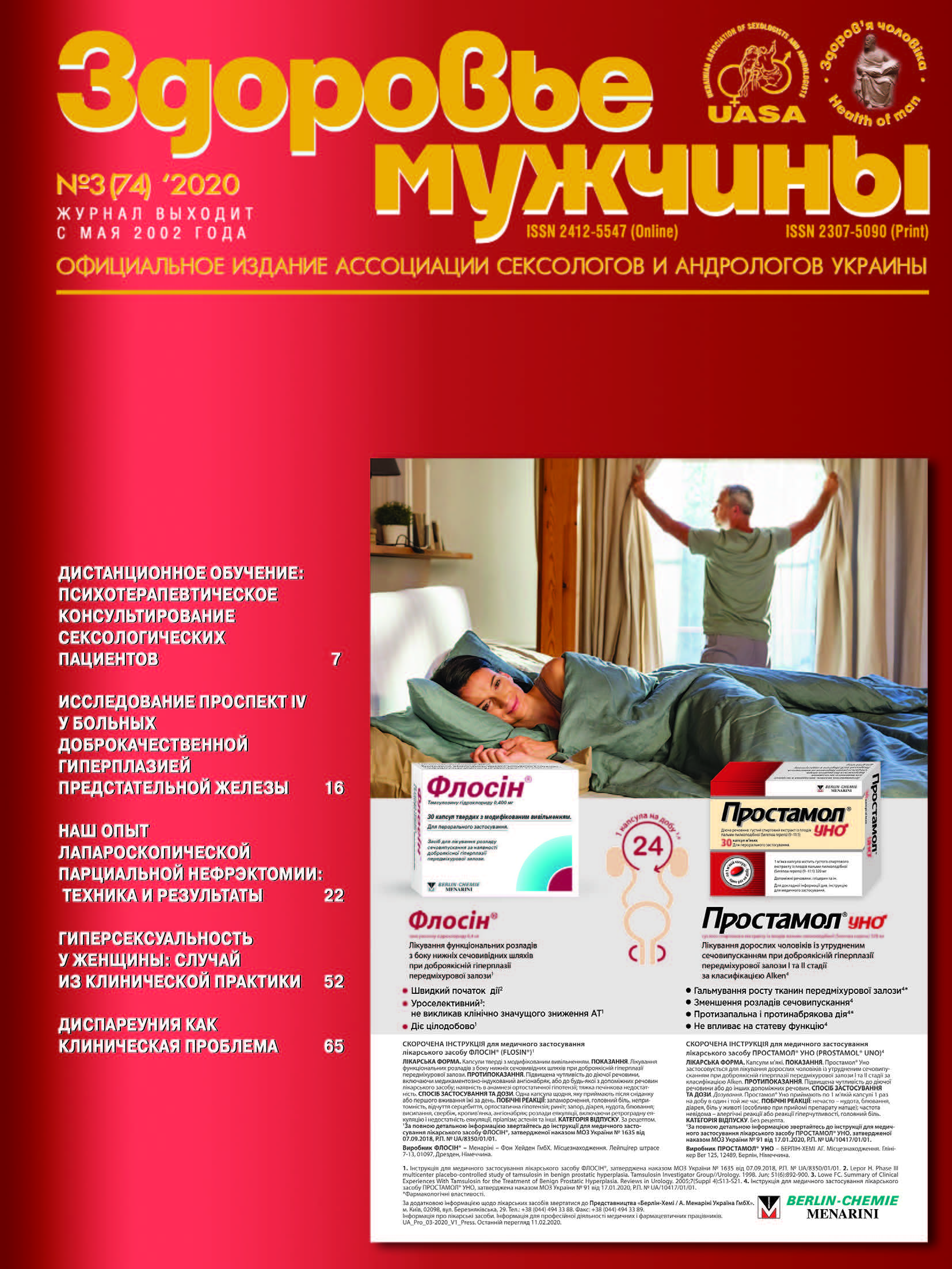 Downloads
License
Copyright (c) 2020 О. М. Кваша, О. М. Ухаль, М. І. Ухаль
This work is licensed under a Creative Commons Attribution-NonCommercial-NoDerivatives 4.0 International License.
The journal does not require authors of original (primary) research papers to assign the copyright of their published contributions. Authors grant the journal an non-exclusive licence  CC BY 4.0 (Creative Commons Attribution 4.0 International License) to using and the first publication of the original in this journal. Copyright of the manuscripts is retained by the authors, after publication authors retain rights to reuse their papers in their future printed work without first requiring permission from the publisher of the journal and share their own published articles.
The journal supports the self-archiving process. Prior to publication in the journal, authors may post a copy of their manuscript in preparation or submitted to the journal in recognized non-commercial preprint servers, public websites.  Authors also are encouraged to archive their final author version of the manuscript in their institution's repositories and, if they wish, on their personal websites. Authors should cite the publication reference and DOI number on the first page of any deposited version, and provide a link from it to the URL of the published article on the journal's website.
To facilitate self-archiving of original research papers and help authors fulfil funder and institutional mandates, the journal deposits manuscripts in National Library of Ukraine by V.I. Vernadsky, Scientific periodicals of Ukraine database and different international scintificd database on behalf of authors who opt-in to this free service during submission. The journal provides depositing of articles on official website of the publisher. The full text access to published papers is free.