Psychotherapeutic Counseling of Sexological Patients
Keywords:
sexological practice, syndromes, diagnostics
Abstract
The article provides data on the importance of psychodiagnostics in the examination of sexological patients. It is specified that psychical deviations are more-less present in all sexological patients, which is important for diagnosis and for the choice of pathogenetically based therapy.

Commonly sexological patients are diagnosed with non-profound disorders of brain activity. To identify them, a carefully collected history and patient complaints from a psychological assessment of the data obtained are often sufficient.

Obtained data requires additional testing. The following methods are used more often: MMPI, HADS, Spielberg-Hanin, Beck, Hamilton, Rorschach, Tsung ...

In sexological patients, the following syndromes are most common: asthenic, affective, obsessive states, senestopathic, hypochondriacal. Less common: syndrome of overvalued ideas, delusional syndromes. Correctly performed psychological diagnostics presupposes an competent chosen treatment. Psychotherapy is rarely used as an independent method of therapy, more often it is combined with other methods.

In sexological practice, preference is given to individual rational psychotherapy. Sexual partner connection to the treatment process significantly increases the effectiveness.
References
Горпинченко И.И., Воробец Д.З. (2013) Маханизм развития сексуальной дисфункции. – Львов. – С. 28.
Кришталь Е.В., Ворник Б.М. Сексопатология. – К.: Медицина, 2014. – С. 139.
Калинченко С.Ю., Тюзиков И.А., Тишова Ю.А., Ворслов Л.О. (2014) Обследование мужчины. – М.: Практическая медицина. – 111 с.
Кришталь В.В., Григорян С.Р. Сексология в 4 частях. – Харьков: Академия сексологических исследований, 1999. – 1152 с.
Сексопатология: Справочник. Васильченко Г.С., Агаркова Г.Е., Агарков С.Т. / Под ред. Г.С. Васильченко. – М: Медицина, 1990 – 576 с.
Aschaka C., Himmel W., Ittner E. et al. (2001) Sexual problems of male patients in family practice. J. Fam. Pract. 50: 773–778.
Masters W.M. and Jonson V.E. Human Sexual Jnadeanacy. Boston, 1990 Littl, Brown.
Горпинченко И.И. Геронтологическая сексопатология // Здоровья. – 1991. – 168 с.
Кочарян Г.С. Психотерапия гомосексуалов, отвергающих свою сексуальную ориентацию: современный анализ проблемы // Психиатрия и медицинская психология. – 2010. – № 1–2 (24–25). – С. 131–141.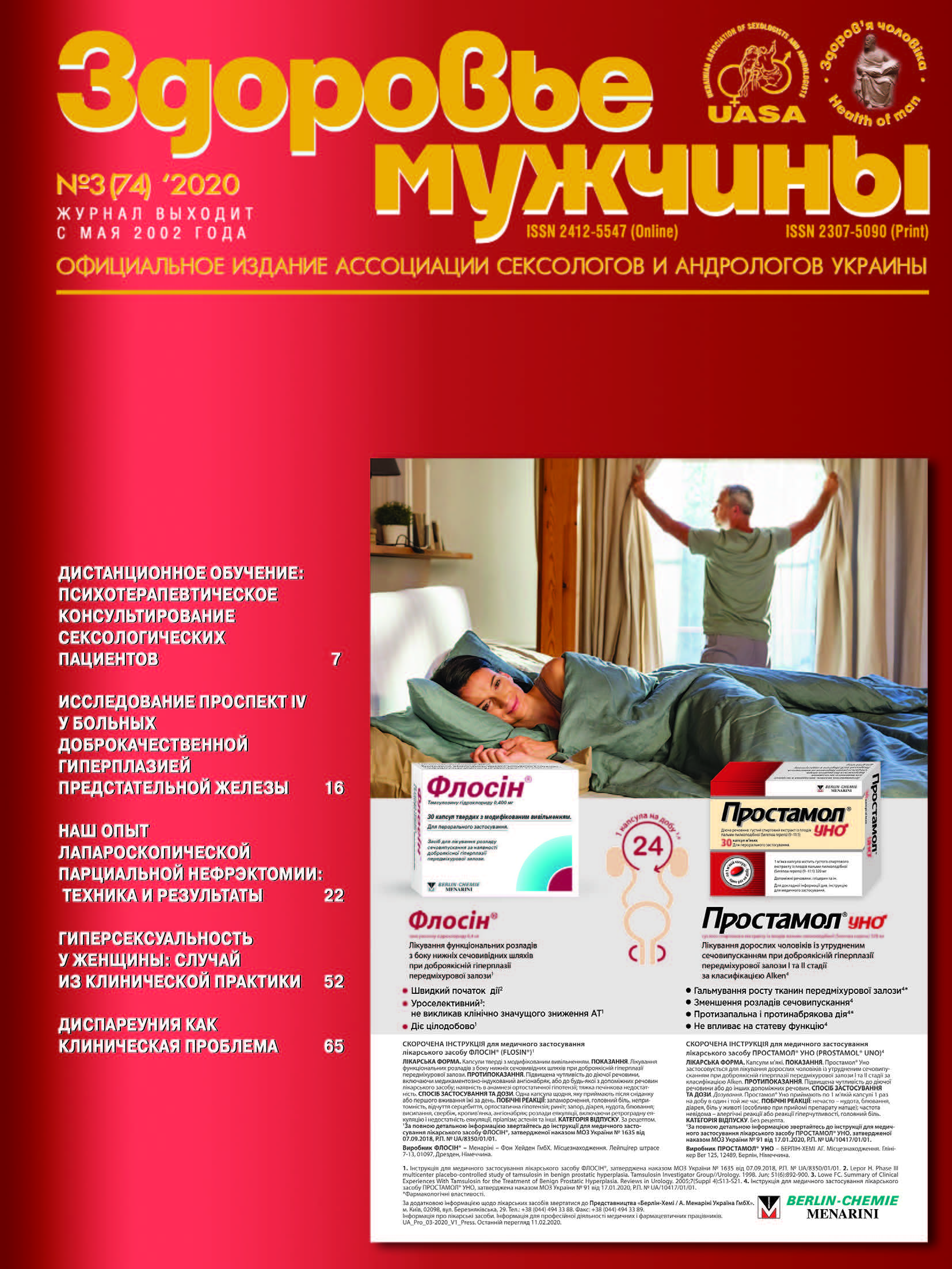 Downloads
Section
Distance learning
License
Copyright (c) 2020 І. І. Горпинченко, М. В. Турчак
This work is licensed under a Creative Commons Attribution-NonCommercial-NoDerivatives 4.0 International License.
The journal does not require authors of original (primary) research papers to assign the copyright of their published contributions. Authors grant the journal an non-exclusive licence  CC BY 4.0 (Creative Commons Attribution 4.0 International License) to using and the first publication of the original in this journal. Copyright of the manuscripts is retained by the authors, after publication authors retain rights to reuse their papers in their future printed work without first requiring permission from the publisher of the journal and share their own published articles.
The journal supports the self-archiving process. Prior to publication in the journal, authors may post a copy of their manuscript in preparation or submitted to the journal in recognized non-commercial preprint servers, public websites.  Authors also are encouraged to archive their final author version of the manuscript in their institution's repositories and, if they wish, on their personal websites. Authors should cite the publication reference and DOI number on the first page of any deposited version, and provide a link from it to the URL of the published article on the journal's website.
To facilitate self-archiving of original research papers and help authors fulfil funder and institutional mandates, the journal deposits manuscripts in National Library of Ukraine by V.I. Vernadsky, Scientific periodicals of Ukraine database and different international scintificd database on behalf of authors who opt-in to this free service during submission. The journal provides depositing of articles on official website of the publisher. The full text access to published papers is free.