Evaluation of idiopathic overactive urinary bladder treatment with method of biofeedback
Keywords:
overactive bladder, electromyography, biofeedback, EMG-trigger electrical stimulation
Abstract
The objective: the aim of the study was to assess changes in electromyography (EMG) parameters in women with overactive bladder (OAB) and explore the possibility of correction adaptive capacities of the bladderusing biofeedback (BFB) in conjunction with ETS (EMG-trigger electrical stimulation) muscles of the pelvic floor.
Matherials and methods. The study involved 73 women with symptoms of OAB. Based on the data of the urodynamic study, patients were divided into groups: group I (n=34) – patients with detrusor hyperactivity; group II (n=39) – patients with GASM without detrusor hyperactivity.
Results. The study of EMG dysfunction symptoms striated perineal muscles and pelvic sphincter apparatus were installed in 78,2% of women with emergent form of urinary incontinence. In women with a «sensory» symptoms OAB without incontinence dysfunction of muscles of the perineum and sphincter apparatus were installed in 36,8% and 53,4% of patients with algic syndrome.
Conclusion. Also found that the application of the method of BFB in combination with ETS indicators sphincter muscle of the pelvic improved after 2 weeks in 52% of patients after 4 weeks of EMG indices improved in 61% of patients, and by the 15th class progress as the muscle work recorded in 68% of patients.
References
Buckley BS, Lapitan MC, Epidemiology Committee of the Fourth International Consultation on Incontinence, Paris, 2008. Prevalence of urinary incontinence in men, women, and children-current evidence: findings of the Fourth International Consultation on Incontinence. Urology 2010; 76:265. https://doi.org/10.1016/j.urology.2009.11.078
Management Recommendations. In: Incontinence, 4th ed., Abrams P, Cardozo L, Khoury S, Wein A. (Eds), Health Publications, Paris 2009. – p. 1774.
Diagnosis and treatment of overactive bladder (non-neurogenic) in adults: AUA/SUFU Guideline / E.A. Gormley, D.J. Lightner, K.L. Burgio [et al.] // 2012 May. American Urological Association. https://doi.org/10.1016/j.juro.2012.09.079
Tikkinen K.A. Does the Imprecise Definition of Overactive Bladder Serve Commercial Rather than Patient Interests? / K.A. Tikkinen, A. Auvinen // Eur Urol. – 2012 Apr;61(4):746–8; discussion 749–50. Epub 2012 Jan 5. https://doi.org/10.1016/j.eururo.2011.12.013
DuBeau CE. Treatment of urinary incontinence. In: UpToDate. Basow DS (Ed), UpToDate, Waltham, MA, 2012.
Benefits and harms of pharmacologic treatment for urinary incontinence in women: A systematic review / T. Shamliyan, J.F. Wyman, R. Ramakrishnan [et al.] // Ann Intern Med. 2012 Jun 19;156(12):861–874. https://doi.org/10.7326/0003-4819-156-12-201206190-00436
EAU guidelines on urinary incontinence / J.A. Thüroff, P. Abrams, K.E. Andersson [et al.] // Eur. Urol. – 2011 Mar; 59(3):387–400. https://doi.org/10.1016/j.eururo.2010.11.021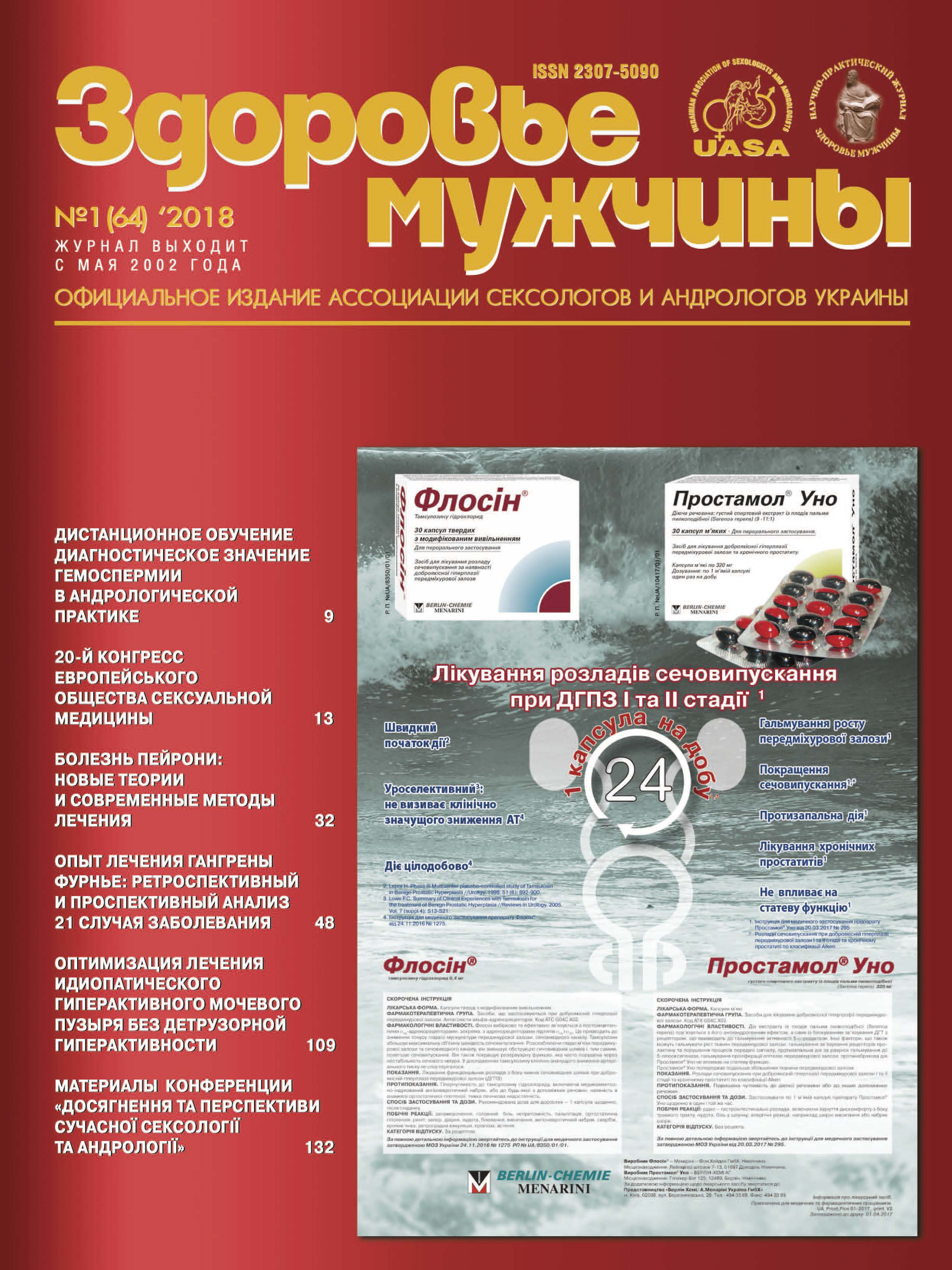 Downloads
License
Copyright (c) 2020 Ю. М. Дехтяр, Ф. І. Костєв, О. М. Зачеславський, Д. О. Кузнецов
This work is licensed under a Creative Commons Attribution-NonCommercial-NoDerivatives 4.0 International License.
The journal does not require authors of original (primary) research papers to assign the copyright of their published contributions. Authors grant the journal an non-exclusive licence  CC BY 4.0 (Creative Commons Attribution 4.0 International License) to using and the first publication of the original in this journal. Copyright of the manuscripts is retained by the authors, after publication authors retain rights to reuse their papers in their future printed work without first requiring permission from the publisher of the journal and share their own published articles.
The journal supports the self-archiving process. Prior to publication in the journal, authors may post a copy of their manuscript in preparation or submitted to the journal in recognized non-commercial preprint servers, public websites.  Authors also are encouraged to archive their final author version of the manuscript in their institution's repositories and, if they wish, on their personal websites. Authors should cite the publication reference and DOI number on the first page of any deposited version, and provide a link from it to the URL of the published article on the journal's website.
To facilitate self-archiving of original research papers and help authors fulfil funder and institutional mandates, the journal deposits manuscripts in National Library of Ukraine by V.I. Vernadsky, Scientific periodicals of Ukraine database and different international scintificd database on behalf of authors who opt-in to this free service during submission. The journal provides depositing of articles on official website of the publisher. The full text access to published papers is free.