The results of combined conservative treatment after photoselective laser vaporization of the prostate gland over her benign hyperplasia
Keywords:
photoselective laser vaporization of the prostate, benign prostatic hyperplasia, Prostamol Uno, Flosin, the lower urinary tract symptoms
Abstract
The objective: to evaluate the clinical efficacy of combined therapy with Serenoa repens extract (Prostamol Uno) and selective α-adrenoblocker (Flosin) in patients with BPH stage II III after performing Photoselective Laser Vaporization of the Prostate (PLVP).
Materials and methods. The patients were divided into four clinical groups. Patients in group 1 (n = 17) did not take medical treatment after FSLVP, follow up was established for them. Patients in the 2nd group (n = 28) received monotherapy with Prostamol Uno, which they took before bedtime 1 capsule daily for 3 years. Patients in 3rd group (n = 27) received Flosin in a dose of 0.4 mg, 1 capsule per day in the morning after eating for 3 years. Persons in the 4th group (n = 29) received combination therapy: Prostamol Uno 1 capsule per day before bedtime and Flosin in a dose of 0.4 mg, 1 capsule per day in the morning, after eating, for 3 years. The examination carried out in the period after 1 and 3 years.
Results. As a result of the study, it was found that the best results were observed in patients who received combined conservative therapy with Serenoa repens extract and tamsulosin after PLVP.
Conclusions. Rehabilitation in persons with BPH, who under went minimally invasive interventions PLVP require long term therapy with a combination of palm extract Sabal (Prostamol Uno) and selective α-blocker (Flosin). Combination therapy with  Prostamol Uno and Floxin is pathogenetically highly effective and safe, which facilitates the rapid elimination of irritative and obstructive symptoms, with an improvement in the patient's quality of life.
References
Горпинченко И.И., Гурженко Ю.Н., Клименко П.М., Шуляк А.В., Спиридоненко В.В. Исследование Проспект 2 (ПРОСтамол: ПЕрспективы Комбинированной Терапии) при ДГПЖ // Здоровье мужчины. – 2012. – No 1. – С. 56–60.
Горпинченко І.І., Гурженко Ю.М., Спиридоненко В.В. Сучасні дані про вплив хронічного запалення в патогенезі доброякісної гіперплазії передміхурової залози і раку передміхурової залози // Здоровье мужчины. – 2014. – No 4. – С. 91–94.
Гурженко Ю.Н., Спиридоненко В.В., Гайсенюк Ф.З. Профилактика осложнений после оперативного вмешательства по поводу доброкачественной гиперплазии предстательной железы // Здоровье мужчины. – 2016. – No 3 (58). – С. 12–15.
Переверзев А.С., Сергиенко Н.Ф. Аденома предстательной железы. К, Здоровье. 1998. – 278 с.
Ситенко А.М «Фотоселективная лазерная вапоризация: анализ у пациентов с объемом опухоли >60 см3» Програма науково-практичної конференції «Актуальні питання сучасної сексології та андрології», м. Київ. 19.05.2016.
Aliaev I.G, Vinarov A.Z, Demidko I.L, Spivak L.G. The results of the 10 year study of efficacy and safety of Serenoa repens extract in patients at risk of progression of benign prostatic hyperplasia // Urologia. – 2013, Jul Aug; (4). – Р. 32–6.
Berges R.R., Pientka L., Hufner K. et al. Male lower urinary tract symptoms and related health care seeking in Germany // Eur. Urology. – 2001. – V. 39. – P. 682.
De Marzo A.M. Pathological and molecular mechanisms of prostate cancerogenesis: implications for diagnosis, prevention and treatment // J Cell Biochem. – 2004. – V. 91. – P. 459–477.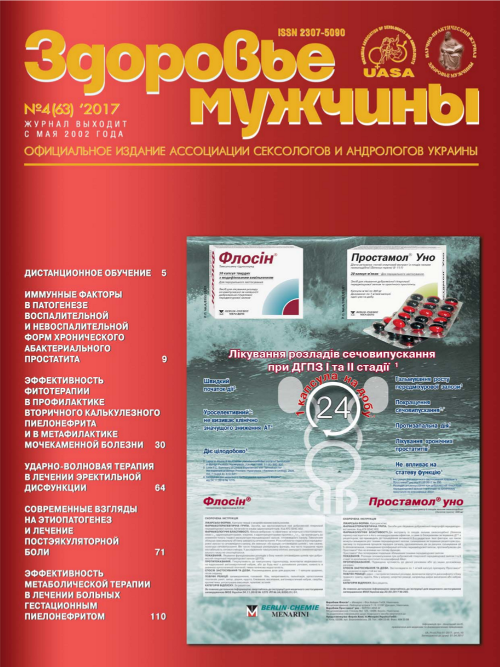 Downloads
Section
For practicing physicians
License
Copyright (c) 2020 І. І. Горпинченко, Ю. М. Гурженко, В. В. Спиридоненко, А. М. Ситенко
This work is licensed under a Creative Commons Attribution-NonCommercial-NoDerivatives 4.0 International License.
The journal does not require authors of original (primary) research papers to assign the copyright of their published contributions. Authors grant the journal an non-exclusive licence  CC BY 4.0 (Creative Commons Attribution 4.0 International License) to using and the first publication of the original in this journal. Copyright of the manuscripts is retained by the authors, after publication authors retain rights to reuse their papers in their future printed work without first requiring permission from the publisher of the journal and share their own published articles.
The journal supports the self-archiving process. Prior to publication in the journal, authors may post a copy of their manuscript in preparation or submitted to the journal in recognized non-commercial preprint servers, public websites.  Authors also are encouraged to archive their final author version of the manuscript in their institution's repositories and, if they wish, on their personal websites. Authors should cite the publication reference and DOI number on the first page of any deposited version, and provide a link from it to the URL of the published article on the journal's website.
To facilitate self-archiving of original research papers and help authors fulfil funder and institutional mandates, the journal deposits manuscripts in National Library of Ukraine by V.I. Vernadsky, Scientific periodicals of Ukraine database and different international scintificd database on behalf of authors who opt-in to this free service during submission. The journal provides depositing of articles on official website of the publisher. The full text access to published papers is free.