Use of Canephron® N in treatment of acute uncomplicated cystitis in women
Keywords:
treatment of acute cystitis, Canephron® N, uncomplicated infections of the lower urinary tract
Abstract
The objective: of study was to evaluate the efficacy and safety of Canephron® N with uncomplicated cystitis in women in clinical practice. Patients and methods. In our work was attended by 22 women with a diagnosis of acute uncomplicated cystitis. The mean age was 29,0±1,8 years (from 19 to 51 years. The criteria of effectiveness were changes in symptoms and laboratory parameters according to the urinary tests at Canephron® N monotherapy. Results. After treating by Canephron® N there were observed significant improvement in symptoms of acute cystitis. Before treatment the average symptom score was 8,05±0,7 points, on the 3rd day of treatment it significantly decreased to 5,1±1,0 points (p<0,05) on day 7 of treatment it was up to 2,9±1,0 points, in the phase of observation of 37 days after initiation of therapy by Canephron® N othe average score of symptoms was 0,1±0,3 points. Frequency leukocyturia on the 7 day of treatment according to a study by urine microscopy was 83,3%, and by the 37 th day after the start of Canephron® N (phase monitoring) significantly decreased to 37,5% (p<0,05). Canephron® N showed statistically significant antibacterial activity in acute cystitis. Prior to initiating therapy the growth of microorganisms at a titer of more than 100 000 units was detected in 72,7% of patients after 2 weeks of treatment (on day 37 of observation) – in 28,6% of patients (p<0,05). Conclusions. Our results suggest that Canephron® N can be an effective and well-tolerated alternative treatment of uncomplicated infections of the lower urinary tract in women, allowing to reduce the use of antibiotics. Appointment of the drug as a monotherapy Canephron® N acute cystitis and duration of treatment requires further study and discussion.
References
Little P, Moore MV, Turner S, et al. Effectiveness of five different approaches in management of urinary tract infection: randomised controlled trial. BMJ. 2010;340:199-204. doi: 10.1136/bmj.c199.
Ivanov D, Abramov-Sommariva D, Moritz К, et al. An open label, non-controlled, multicentre, interventional trial to investigate the safety and efficacy of Canephron® N in the managementof uncomplicated urinary tract infections (uUTIs). Clinical Phytoscience. 2015;1(7):1-11. doi: 10.1186/s40816-015-0008-x.
Wagenlehner FM, Weidner W, Naber KG. An update on uncomplicated urinary tract infections in women. Current Opinion in Urology. 2009;19:368-374. doi: 10.1097/mou.0b013e32832ae18c.
Ferry SA, Holm SE, Stenlund H, et al. The natural course of uncomplicated lower urinary tract infection in women illustrated by a randomized placebo controlled study. Scand J Inf Dis. 2004;36:296-301. doi: 10.1080/00365540410019642.
Naber KG. Efficacy and safety of the phytotherapeutic drug Canephron® N in prevention and treatment of urogenital and gestational disease: review of clinical experience in eastern europe and central asia. Research and reports in Urology. 2013;5:39-46. doi: 10.2147/rru.s39288.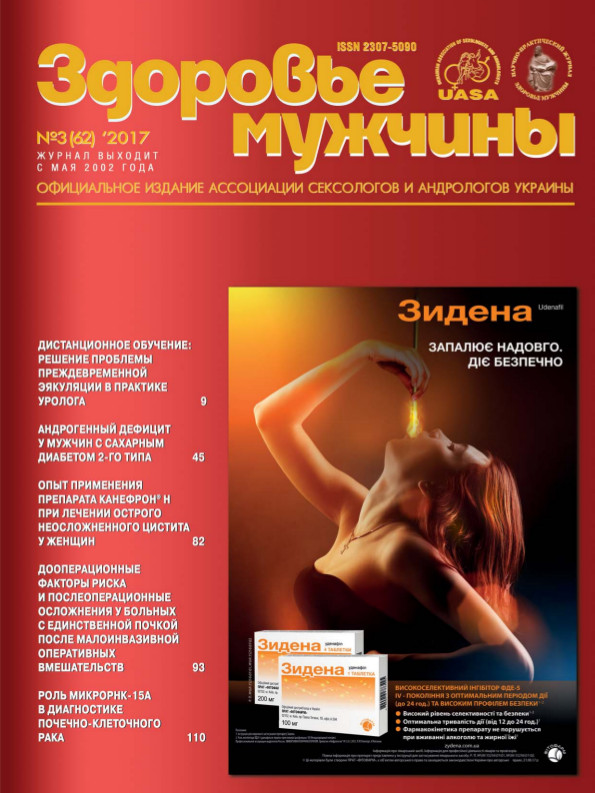 Downloads
License
Copyright (c) 2020 Р. Э. Амдий, С. Х. Аль-Шукрі, И. В. Кузьмін, М. В. Сорокін, Є. О. Чаплицький, М. В. Скворцов, О. С. Алексєєв, А. Ш. Окунчаєв, О. А. Турбін, Г. Р. Тимаєва, Д. В. Булаєв, Ю. С. Москальова
This work is licensed under a Creative Commons Attribution-NonCommercial-NoDerivatives 4.0 International License.
The journal does not require authors of original (primary) research papers to assign the copyright of their published contributions. Authors grant the journal an non-exclusive licence  CC BY 4.0 (Creative Commons Attribution 4.0 International License) to using and the first publication of the original in this journal. Copyright of the manuscripts is retained by the authors, after publication authors retain rights to reuse their papers in their future printed work without first requiring permission from the publisher of the journal and share their own published articles.
The journal supports the self-archiving process. Prior to publication in the journal, authors may post a copy of their manuscript in preparation or submitted to the journal in recognized non-commercial preprint servers, public websites.  Authors also are encouraged to archive their final author version of the manuscript in their institution's repositories and, if they wish, on their personal websites. Authors should cite the publication reference and DOI number on the first page of any deposited version, and provide a link from it to the URL of the published article on the journal's website.
To facilitate self-archiving of original research papers and help authors fulfil funder and institutional mandates, the journal deposits manuscripts in National Library of Ukraine by V.I. Vernadsky, Scientific periodicals of Ukraine database and different international scintificd database on behalf of authors who opt-in to this free service during submission. The journal provides depositing of articles on official website of the publisher. The full text access to published papers is free.