Possibilities of correction of protein peroxidation and antioxidant defense in patients with urolithiasis
Keywords:
oxidative-antioxidative system, urolithiasis, treatment
Abstract
Urolithiasis is one of the most spread urological diseases and occurs not less then in 2–5% of population, most often in age of 20–50 years. The objective: research the condition of prooxidant system and the system of antioxidant defense in patients with urolothiasis and antioxidant activity of phytomedications, in particular in calcium-oxalate nephrolithiasis. Patients and methods. Materials and methods. 56 patients, which were examined and treated we divided into groups: 1 group (n=36) patients with urolithiasis aged from 18 to 65 years; 2 group (n=20), which is a control group. 20 healthy people of the same age are in this group. In first group, in complex treatment of patients with urolithiasis was included phytomedication. Medication was prescribed by по 45 ml 3 times per day for 1 month. For study the condition of peroxidation of proteins we researched indexes of oxidative modification of proteins. For study of the state of peroxidation of proteins we researched the indexes of oxidative modification of proteins according to the method of Dubinina Dubinina E.E. and coauthors. Activity of superoxide dismutase we identified according to the method of Chevari Chevari S. and coauthors. Assay of catalase in blood serum was performed by the method of Bah Bah A.N. and Zubkov Zubkov S. Results. Found that in patients with urolithiasis occurs oxidative activation, shown a significant increase in the level of oxidation-modified proteins. However, in all patients antioxidant defense weakened, which demonstrates a significant reduction in enzyme activity of superoxide dismutase and especially catalase. After treatment we indicated the tendency to significantly decrease of oxidation-modified proteins in our patients compared to the original level, which shows the antioxidant features of phytomedication. Also usage of phytomedication leads to improvement of functional capacity of antioxidant system. Conclusion. In patients with calcium-oxalate nephrolithiasis there is development of oxidative stress, which appears a significant increase in content and accumulation of protein peroxidation products amid growing tension adjustment mechanisms of antioxidant defense system. Using of complex therapy with inclusion of proposed phytomedication allows adjust methabolic disorders, which manifested by recovery of antioxidative activity of blood serum, decrease of the oxidative modification of proteins system.
References
Возианов А. Ф. Атлас: руководство по урологии: в 3 т. / А. .Ф. Возианов, А. В. Люлько. – Днепропетровск: РИА «Днепр-VAL», 2001. – 195 с.
Литвинець Є.А., Зеляк М.В., Соломчак Д.Б. та ін. Стан перекисного окислення ліпідів і антиоксидантного захисту при патології сечовидільної системи та доцільність використання біофлавоноїдів у комплексному лікуванні // Галицький лікарський вісник. – 2004 . – No 3. – С. 110–113.
Мочекаменная болезнь: этиопатогенез, диагностика, лечение и метафилактика: пособие / В. И. Вощула [и др.]; под. общ. ред. В. И. Вощулы. – Минск: Зималето, 2010. – 220 с.
Карімов Карімов І.З. Окисна модифікація білків і перекисне окислення ліпідів у розвитку метаболічної інтоксикації при патології / І.З. Карімов // Лабораторна діагностика. – 2005. – No 1 (31). – С. 7–13.
Соодаева С.К. Окислительный стресс и антиоксидантная терапия при заболеваниях органов дыхания / С.К. Соодаева // Пульмонология. – 2006. – No 5. – С. 122–126.
Черненко В.В. Підвищення ефективності реабілітації у хворих на сечокам'яну хворобу після проведення літотрипсії /В.В. Черненко, Д.В. Черненко //Урологія. – 2015. – No 4. – С. 14–20.
Borysewicz-Sanczyk H. Urolithiasis risk factors in obese and overweight children / H. Borysewicz-Sanczyk, T. Porowski, A. Hryniewicz // Pediatr Endocrinol Diabetes Metab. – 2012. – Vol. 18, N 2. – P. 53–57.
Knoll T. Epidemiology, Pathogenesis, and Pathophysiology of Urolithiasis / T. Knoll // Eur. Urol. Suppl. – 2010. – Vol. 9. – P. 802–806.
Elsas L.J. Approach to inborn emors of metabolism / L.J. Elsas, L. Gladman, D. Ausiello // Cecil Medicine. Philadelphia, Pa: Saunders Elsevier. – 2008. – P. 216.
Rink L. Zinc-altered immune function and cytokine production / L. Rink, H. Kirchner // J. Nutr. 2008. – Vol. 130. – P. 1407–1411.
Pearle M.S. Urologic diseases in America project: Urolithiasis / M.S. Pearle, E.A. Calhoun, G.C. Curhan // J. Urol. – 2005. – Vol. 173. – P. 848–857.
Williams K.J., Fisher E.A. Oxidation, lipoproteins and atherosclerosis // Curr. Opin. Clin. Nutr. Care. – 2005. – Vol. 8. – P. 139–147.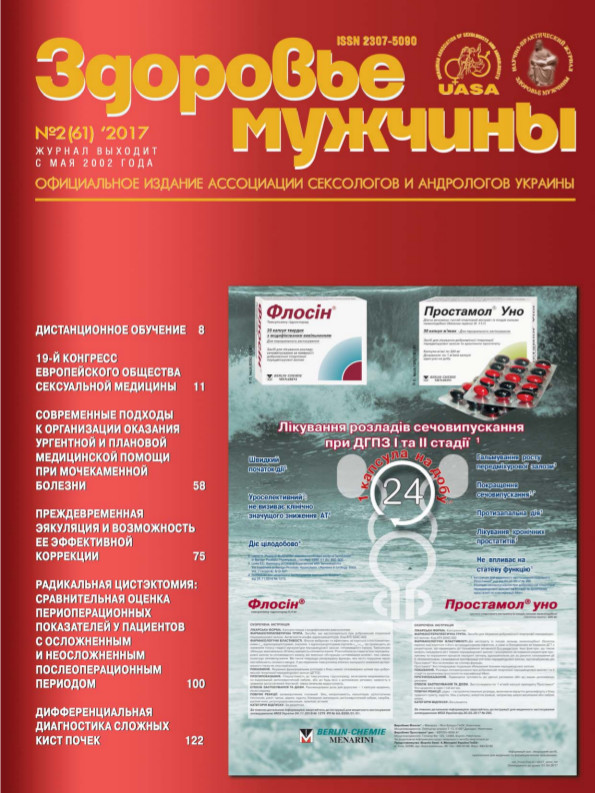 Downloads
License
Copyright (c) 2020 Є. А. Литвинець, Н. Т. Скоропад
This work is licensed under a Creative Commons Attribution-NonCommercial-NoDerivatives 4.0 International License.
The journal does not require authors of original (primary) research papers to assign the copyright of their published contributions. Authors grant the journal an non-exclusive licence  CC BY 4.0 (Creative Commons Attribution 4.0 International License) to using and the first publication of the original in this journal. Copyright of the manuscripts is retained by the authors, after publication authors retain rights to reuse their papers in their future printed work without first requiring permission from the publisher of the journal and share their own published articles.
The journal supports the self-archiving process. Prior to publication in the journal, authors may post a copy of their manuscript in preparation or submitted to the journal in recognized non-commercial preprint servers, public websites.  Authors also are encouraged to archive their final author version of the manuscript in their institution's repositories and, if they wish, on their personal websites. Authors should cite the publication reference and DOI number on the first page of any deposited version, and provide a link from it to the URL of the published article on the journal's website.
To facilitate self-archiving of original research papers and help authors fulfil funder and institutional mandates, the journal deposits manuscripts in National Library of Ukraine by V.I. Vernadsky, Scientific periodicals of Ukraine database and different international scintificd database on behalf of authors who opt-in to this free service during submission. The journal provides depositing of articles on official website of the publisher. The full text access to published papers is free.