Dynamics of changes in the parameters of electromyography in the treatment of hyperactive urinary bladder with hyperkinetic tone of the detrusor and the distal part of the colon
Keywords:
neurogenic bladder disorders, neurogenic bowel dysfunction, electromyography, detrusor
Abstract
The article presents the results of treatment of patients with overactive bladder detrusor muscle tone hypertotonic with combined pathology of distal colon. Effectiveness evaluation was conducted using electromyography. It was found that the electromyography shows the functional state of the urinary tract and distal colon in their comorbidity. Conservative treatment of this category of patients is effective.
References
Пирогов В.О. Гиперактивный мочевой пузырь – подводный камень урологии / Пирогов В.О., Зайцев В.И., Севастянова Н.А., Андреєва И.А.// Здоровье мужчины. – 2006. – No 4 (19).
Abrams P., Andersson K.E., Birder L. et al. Fourth International Consultation on Incontinence Recommendations of the International Scientific Committee: Evaluation and treatment of urinary incontinence, pelvic organ prolapse, and fecal incontinence. Neurourol Urodyn. 2010; 29:213–240.
Coyne K.S., Cash B., Kopp Z., et al. The prevalence of chronic constipation and faecal ncontinence among men and women with symptoms of overactive bladder. BJU Int, 2011; 107:254–61.
Craggs M., Balasubramaniam A.V., Chung EAL, Emmanuel AV. Aberrant reflexes and function of the pelvic organs following spinalcord injury in man. Auton Neurosci 2006; 126-127: 355–370.
Krogh K., Olsen N., Christensen P., Madsen J.L., Laurberg S. Colorectal transport during defecation in patients with lesions of the sacral spinal cord. Neurogastroenterol Motil 2003; 15: 25–31.
Valles M., Vidal J., Clave P., Mearin F. Bowel dysfunction in patients with motor complete spinal cord injury: clinical, neurological, and pathophysiological associations. Am J. Gastroenterol. 2006 Oct; 101 (10):2290–9.
Hellenthal N.J., Short S.S., O'Connor R.C., Eandi J.A., Yap S.A., Stone A.R. Incontinent ileovesicostomy: Long-term outcomes and complications. Neurourol Urodyn. 2009: 28:483–6.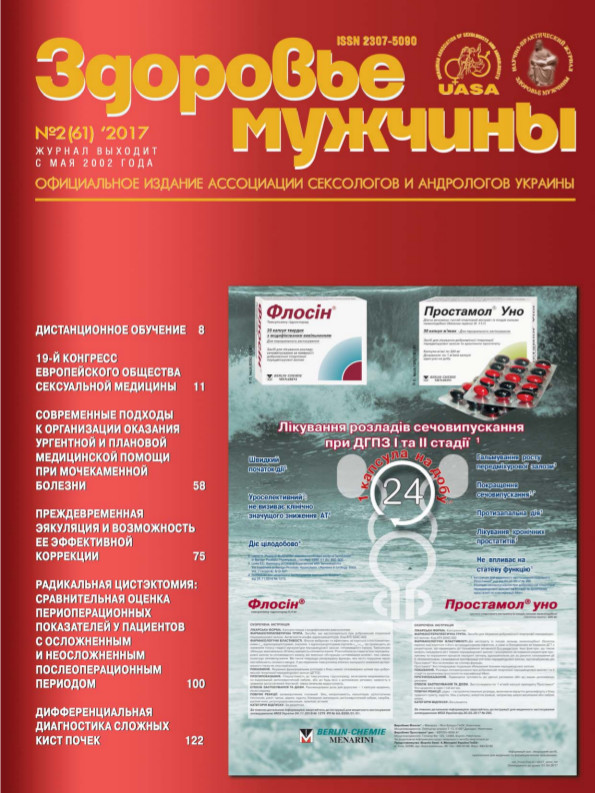 Downloads
License
Copyright (c) 2020 С. О. Возіанов, М. П. Захараш, Ю. М. Захараш, Н. А. Севастьянова, П. В. Чабанов, В. Ю. Угаров
This work is licensed under a Creative Commons Attribution-NonCommercial-NoDerivatives 4.0 International License.
The journal does not require authors of original (primary) research papers to assign the copyright of their published contributions. Authors grant the journal an non-exclusive licence  CC BY 4.0 (Creative Commons Attribution 4.0 International License) to using and the first publication of the original in this journal. Copyright of the manuscripts is retained by the authors, after publication authors retain rights to reuse their papers in their future printed work without first requiring permission from the publisher of the journal and share their own published articles.
The journal supports the self-archiving process. Prior to publication in the journal, authors may post a copy of their manuscript in preparation or submitted to the journal in recognized non-commercial preprint servers, public websites.  Authors also are encouraged to archive their final author version of the manuscript in their institution's repositories and, if they wish, on their personal websites. Authors should cite the publication reference and DOI number on the first page of any deposited version, and provide a link from it to the URL of the published article on the journal's website.
To facilitate self-archiving of original research papers and help authors fulfil funder and institutional mandates, the journal deposits manuscripts in National Library of Ukraine by V.I. Vernadsky, Scientific periodicals of Ukraine database and different international scintificd database on behalf of authors who opt-in to this free service during submission. The journal provides depositing of articles on official website of the publisher. The full text access to published papers is free.