Orgasmic disorders: definitions and prevalence
Keywords:
orgasm, disorders, definitions, frequency
Abstract
Various definitions of orgasmic disorders in women and men, the terminology used to indicate their different forms, dynamics of ideas on these disorders and the frequency of anorgasmia revealed in various studies are submitted.
References
Айриянц И.Р. Первичная тотальная аноргазмия у женщин // Всероссийская научно-практическая конференция с международным участием «Междисциплинарный подход в понимании и лечении психических расстройств: миф или реальность?» 14–17 мая 2014 года, Санкт-Петербург. – URL: http://psychiatr.ru/download/1618?view=1&name=WADP-2014%282%29_ abstr-%28rus%29_XI%2Bcontents.pdf (дата обращения: 20.12.2016).
Ботнева И.Л. 6.1. Семиотика расстройств генитосегментарной составляющей // Частная сексопатология: Руководство для врачей / Под ред. Г.С. Васильченко. – М.: Медицина, 1983. – Т. 2. – С. 281–286.
Екимов М.В. Женская сексуальность за семью печатями? // Мир сексологии (электронный журнал). – 2012. – No 3. – URL: http://1sexology.ru/3-zhenskaya-seksualnost/ (дата обращения: 15.12.2016).
Екимов М.В. Оргазмические дисфункции у женщин (Пособие для врачей). – СПб.: СПб МАПО, 2011. – 302 с.
Келли Г. (Kelly G.F.) Основы современной сексологии / Пер. с англ. – СПб.: Издательство «Питер», 2000. – 896 с.
Клиническая психиатрия / пер. с англ. доп // гл. ред. Дмитриева. – М.: ГЭОТАР МЕДИЦИНА, 1998. – ISBN 5-88816-010-5. Pocket Hanbook of Clonical Psychiatry // Harold I. Kaplan, Benjamin J. Sadock // Baltimore, Williams & Wilkins. – ISBN 0-683-04583-0. 505 c.
Кон И.С. Введение в сексологию. – М.: Медицина, 1988. – 320 с.
Крукс Р., Баур К. Сексуальность / Пер. с англ. – СПб.: Прайм – ЕВРОЗНАК, 2005. – 480 с.
Мастерс У., Джонсон В., Колодни Р. (Masters W.H., Johnson V.E., Kolodny R.C.) Основы сексологии / Пер. с англ. – М.: Мир, 1998. – 692 с.
Международная классификация болезней (10-й пересмотр). Классификация психических и поведенческих расстройств. Клинические описания и указания по диагностике. – СПб.: «АДИС», 1994. – 304 с.
Рожановская З.В. Медико-биологическое и социально-психологическое значение женского оргазма // Социально-психологические и медицинские аспекты брака и семьи: тезисы докладов III областной научно-практической конференции сексопатологов (Харьков, 15 мая 1987). – Харьков, 1987. – С. 20–22.
Рожановская З.В. Профилактика сексуальных нарушений у женщин: Методические указания. – Харьков, 1977. – 30 с.
Свядощ A.M., Попов И.А. К физиологии половой жизни мужчин // Вопросы психиатрии, психотерапии, сексологии. – Караганда. 1967. – С. 125–127.
Свядощ А.М. Женская сексопатология. Издание пятое, перераб. и допол. – Кишинев: Штиинца, 1991. – 184 с.
Ярхауз М.А, Тэн Э.С.Н. (Yarhouse M.A., Tan E.S.N.) Сексуальность и психотерапия сексуальных расстройств / Пер. с англ. – Черкассы: Коллоквиум, 2016. – 371 с.
American Psychiatry Association. Diagnostic and statistical manual of mental disorders. DSM-IV. 4th edition. Washington DC: American Psychiatric Association, 1994.
Anorgasmia. – URL: http://apps.who.int/classifications/icd11/browse/f/en#/ http % 3a % 2f% 2fid. who. int%2ficd%2fentity%2f1718102523 (date of referece: 25.12.2016).
Basson R. Women's sexual desire and arousal disorders // Primary Psychiatry. – 2008. – 15 (9). – P. 72–81.
Basson R. Women's sexual dysfunction: Revised and expanded definitions // Canadian Medical Association Journal. – 2005. – 172 (10). – Р. 1327–1333.
Basson R. Female sexual response: The role of drugs in the management of sexual dysfunction // Journal of Obstetrics and Gynaecology. – 2001. – 98 (2). – P. 350–353.
Catalan J. Primary male anorgasmia and its treatment: three case reports // Sexual and Мarital Therapy. – 1993. – 8 (3). – P. 275–282.
Сhesser E. The Sexual Marital and Family Relationships of the English Woman. – London: Hutchinson's Medical Publications, 1956.
de Bruijn G. From masturbation to orgasm with a partner: How some women bridge the gap – and why others don't // J Sex Marital Ther. – 1982. – 8 (2). – P. 151–167.
Diagnostic and Statistical Manual of Mental Disorders. Fifth Edition. – United States: American Psychiatric Association, 2013. – 947 p.
Diagnostic Criteria from DSM-IVTM. Fifth printing. – Washington: American Psychiatric Association, 1996. – xi + 358 p.
Eichner K., Habermehl W. Der RAFL-Report. Des Sexualverhalten der Deutschen. – Hamburg, 1978. – 363 S.
Fischer S. The Female Orgasm. – New York: Basic Books, 1973.
Graham C.A. The DSM diagnostic criteria for female orgasmic disorder // Archives of Sexual Behavior. – 2010. – 39 (2). – P. 256–270.
Hunt M. Sexual Behavior in the 1970s. – New York: Dell, 1975.
Hunt M. Sexual Behavior in the 1970s. – Chicago: Playboy Press, 1974.
Tavris C., Sadd S. The Redbook Report on Female Sexuality. – New York: Delacorte Press, 1977.
Janus S.S., Janus C.L. The Janus Report on Sexual Behavior. – New-York, Chichester, Brisbane, Toronto, Singapore: John Wiley & Sons, Inc., 1993. – 430 p.
Johannes C.B., Avis N.E. Gender differences in sexual activity among mid-aged adults in Massachussetts // Maturitas. – 1997. – 26 (3). – P. 175–184.
Kaplan H.S. The New Sex Therapy. – New York: Brunner/Mazel, 1974. – xvi + 544 p.
Kinsey A.C., Pomeroy W.В., Martin С.E., Gebhard P.H. Sexual behavior in the human female. – Philadelphia: Saunders, 1953. – 842 p.
Lauman E.O., Gagnon J.H., Michael R.T., Michaels S. The social organization of sexuality. – Chicago: University of Chicago Press, 1994.
Levin R.J., Levin A. Sexual Pleasure: The Surprising Preferences of 100,000 Women. – Redbook, September, 1975, pp. 51–58.
Masters W., Johnson V. Human Sexual Inadequacy. – Boston: Little, Brown, 1970. – 487 p.
McCabe M.P. Anorgasmia in Women // Journal of Family Psychotherapy. – 2009. – 20 (2–3). – P. 177–197.
Meana V. Sexual dysfunction in women. – Cambriage, MA: Hogrefe, 2012.
Meston C.M., Hull E., Levin R.J., Sipski M. Disorders of orgasm in women // J Sex Med. – 2004. – 1 (1). – P. 66–68.
Michael R.T., Gagnon J.H., Lauman E.O., Kolata G: Sex in America: A Definitive Survey. – Boston: Little Brown & Co., 1994.
Raboch J., Bartak V. Changes in the sexual life of Czechoslovak women born between 1911 and 1958 // Arch. Sex. Behav. – 1980. – 9 (6). – P. 495–502.
Read S., King M., Watson J. Sexual dysfunction in primary medical care: prevalence, characteristics and detection by the general practitioner // Journal of Public Health Medicine. – 1997. – 19 (4). – P. 387–391.
Rosen R.C., Taylor J.F., Leiblum S.R., Bachman G.A. Prevalence of sexual dysfunction in women: results of a survey study of 329 women in an outpatient gynecological clinic // Journal of sex and marital therapy. – 1993. – 19 (3). – P. 171–188.
Schnabl S. Intimverhalten. Sexualstцrungen. Persцnlichkeit. – Berlin: Deutscher Verlag der Wissenschaften, 1976. – 478 S.
Starke K., Friedrich W. Liebe und Sexualitдt bis 30. – Berlin, 1984. – 355 S.
Tavris C., Sadd S. The Redbook Report on Female Sexuality. – New York: Delacorte Press, 1977.
Williams N., Leiblum S., Glob. libr. women's med., (ISSN: 1756-2228) 2008; DOI 10.3843/GLOWM.10432.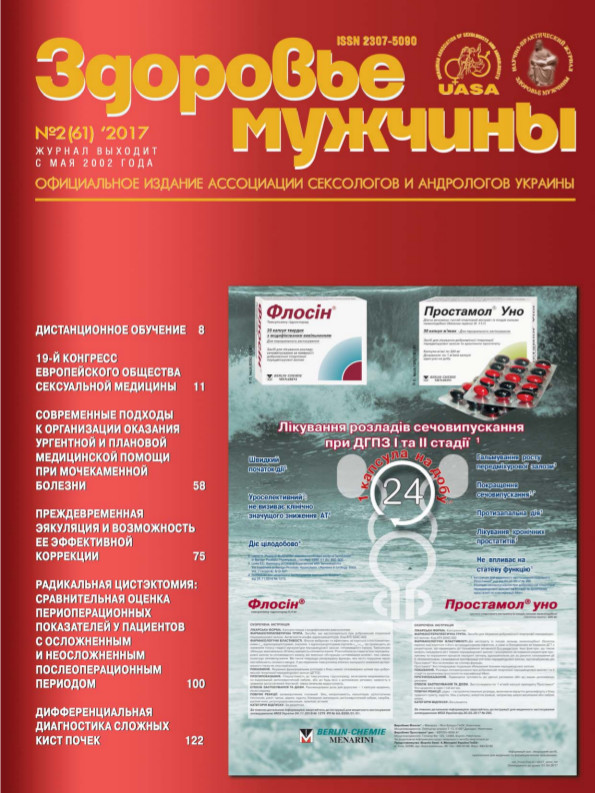 Downloads
Section
Sexology and andrology
License
Copyright (c) 2020 Г. С. Кочарян
This work is licensed under a Creative Commons Attribution-NonCommercial-NoDerivatives 4.0 International License.
The journal does not require authors of original (primary) research papers to assign the copyright of their published contributions. Authors grant the journal an non-exclusive licence  CC BY 4.0 (Creative Commons Attribution 4.0 International License) to using and the first publication of the original in this journal. Copyright of the manuscripts is retained by the authors, after publication authors retain rights to reuse their papers in their future printed work without first requiring permission from the publisher of the journal and share their own published articles.
The journal supports the self-archiving process. Prior to publication in the journal, authors may post a copy of their manuscript in preparation or submitted to the journal in recognized non-commercial preprint servers, public websites.  Authors also are encouraged to archive their final author version of the manuscript in their institution's repositories and, if they wish, on their personal websites. Authors should cite the publication reference and DOI number on the first page of any deposited version, and provide a link from it to the URL of the published article on the journal's website.
To facilitate self-archiving of original research papers and help authors fulfil funder and institutional mandates, the journal deposits manuscripts in National Library of Ukraine by V.I. Vernadsky, Scientific periodicals of Ukraine database and different international scintificd database on behalf of authors who opt-in to this free service during submission. The journal provides depositing of articles on official website of the publisher. The full text access to published papers is free.