Methabolic therapie in complex treatment of excretor-toxic barreness at men. The experience of the use of medicine Gammafertil
Keywords:
Gammafertil, excretor-toxic barreness, сhronical prostatitis, treatment
Abstract
It is shown positive experience of use of medicine Gammafertil at 35 patients with the excretor-toxic barreness caused by chronic inflammatory diseases of genitals at men. Its high clinical (91,4%) efficiency was established. The medicine is well transferred and possesses no by-effects.
References
Сексологія і андрологія / За ред акад. О.Ф. Возіанова та проф. І.І. Горпинченка. – К.: Здоров'я, 1996.
Проскура О.В. Неспецифические простатиты и везикулиты: Руководство по клинической урологии/ Под ред. А.Я. Пытеля. – М., 1970. – С. 193–208.
Кан Д.В., Сегал А.С., Кузьменко А.Н. Диагностика и лечение хронического неспецифического простатита: Метод. рекомендации. – М., 1980.
Тиктинский О.Л. Воспалительные неспецифические заболевания мочеполовых органов. – Ленинград. – 1984.
Lubasch A., Keller I., Borner K., Koeppe P., Lode H. Comparative pharmacokinetics of ciprofloxacin, gatifloxacin, grepafloxacin, levofloxacin, trovafloxacin and moxifloxacin after single oral administration in healthy volunteers. Antimicrob Agents Chemother 2000:44: 2600–3.
Ильин И.И. Негонококковые уретриты у мужчин., 2-е изд. перераб. и доп. – М.: Медицина, 1993. – 256 с.
Мавров И.И., Бухарович В.Г., Глухенький Б.Т. и др. Контактные инфекции, передающиеся половым путем/ Пoд ред. И.И. Маврова. – К.: Здоров'я, 1989. – 230 с.
Скрипкин Ю.К., Шарапова Г.Я., Селисский Г.Д. Болезни, передающиеся при половых контактах. – М.: Медицина. – 1985. – 284 с.
Vanuffel P, Cocito C. Mechanism of action of streptogramins and macrolides. Drugs 1996; 51(Suppl.1):20–30.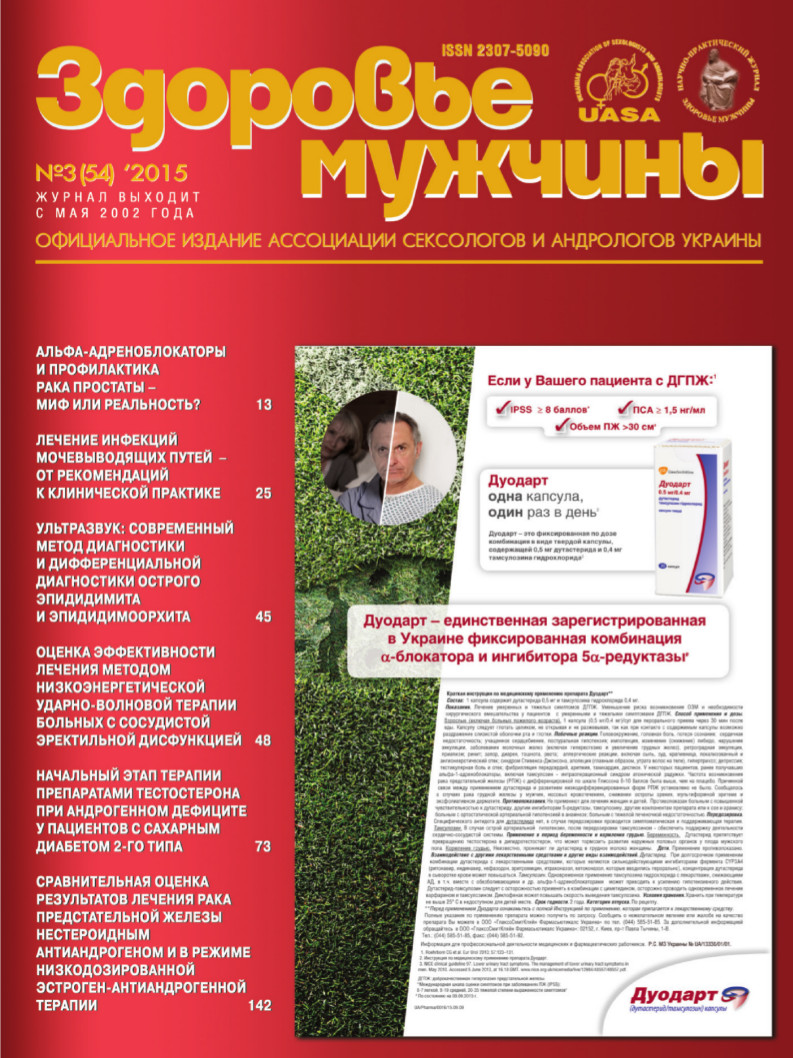 Downloads
License
Copyright (c) 2020 І. І. Горпинченко, Ю. М. Гурженко
This work is licensed under a Creative Commons Attribution-NonCommercial-NoDerivatives 4.0 International License.
The journal does not require authors of original (primary) research papers to assign the copyright of their published contributions. Authors grant the journal an non-exclusive licence  CC BY 4.0 (Creative Commons Attribution 4.0 International License) to using and the first publication of the original in this journal. Copyright of the manuscripts is retained by the authors, after publication authors retain rights to reuse their papers in their future printed work without first requiring permission from the publisher of the journal and share their own published articles.
The journal supports the self-archiving process. Prior to publication in the journal, authors may post a copy of their manuscript in preparation or submitted to the journal in recognized non-commercial preprint servers, public websites.  Authors also are encouraged to archive their final author version of the manuscript in their institution's repositories and, if they wish, on their personal websites. Authors should cite the publication reference and DOI number on the first page of any deposited version, and provide a link from it to the URL of the published article on the journal's website.
To facilitate self-archiving of original research papers and help authors fulfil funder and institutional mandates, the journal deposits manuscripts in National Library of Ukraine by V.I. Vernadsky, Scientific periodicals of Ukraine database and different international scintificd database on behalf of authors who opt-in to this free service during submission. The journal provides depositing of articles on official website of the publisher. The full text access to published papers is free.