Sexual disorders in men suffering from hypertension and their possible correction
Keywords:
erectile dysfunction, IIEF, sildenafil, arginin, LNP therapy
Abstract
The investigation of the effectiveness of the combined therapy with sildenafil, sildenafil and arginin, sildenafil, arginin and LNP therapy was carried out in 120 hypertensive patients with erectile dysfunction.
The patients were divided into several groups. Group I (25 patients) got therapy with inhibitors of phosphodiasterase of 5 type (sildenafil) on demand; Group II (25 patients) got sildenafil in a dose of 50 mg every other day; Group III (25 patients) – sildenafil in a dose of 50 mg every other day + arginin; Group IV (25 patients) – sildenafil +arginin+LNP therapy; Group V (20 patients) was a group of comparison.
The final estimation of the effectiveness of complex therapy in a month showed good and perfect results in 96,0% of patients of Group IV and 84,0% of patients of Group III. Poorer results were revealed in patients of Group I and Group II. In Group V indexes didn't change but in 2 patients (10,0%) results worsened.
On the basis of carried out investigation it was established that arginin and LNP therapy improved treatment.
References
Alyaiev Yu.G. Opyt dlytelnogo I nepreryvnogo lechenia vardenafilom tyazholykh form narushenia erektsyii / Yu.G. Alyaiev, A.Z. Vinarov, N.D. Akhvlediani // Urologia. – 2005. – No 5. – S. 64–66.
Vozianov O.F. Zastosuvania Viargy u likuvani patsientiv z erektylnoyu dysfunktsiyeyu / O.F. Vozianov, I.I. Gorpinchenko, M.I. Zhvavo // Urologia. – 2000. – No 4. – S. 60–66.
Gorpynchenko I.I. Likuvanniya sudynnoyi kopulyatyvnoyi dysfunktsii / I.I. Gorpynchenko, Ya.O. Miroshnykov // Urologia. – 2001. – No 2. – S. 61–64.
Sytenko A.M. Kongres Europeiskogo obshchestva seksualnoyi medytsyny (EOCM) / A.M. Sytechko // Zdorov'ye muzhchyn. – 2006. – No 4. – S. 24–25.
Loran O.B. Viagra (sildenafil citrate) v lechenyii bol'nykh s erektylnoyi dysfunktsyei / O.B. Loran, Yu.G. Alyaiev, P.A. Shepl'ov // Urologia. – 2000. – No 1. – S. 30–33.
Wei M. Total cholesterol and high density lipoprotein cholesterol as important predictors of erectile dysfunction / M. Wei, C. Macera, D. Davis [et al] // Am J. Epidemiol. – 2004. – No 3. – Р. 930-937.
Klein R. Prevalence of self-reported erectile dysfunction in people with long-term IDDM / R. Klein, B. Klein, R. Lee [et al] // J. Diabetes Care – 2006.No19Р. 135-141.
Kloner R. Erectile dysfunction and atherosclerosis / R. Kloner, M. Speakman // Curr Athewscler Rep.2002.No4.Р. 397-401.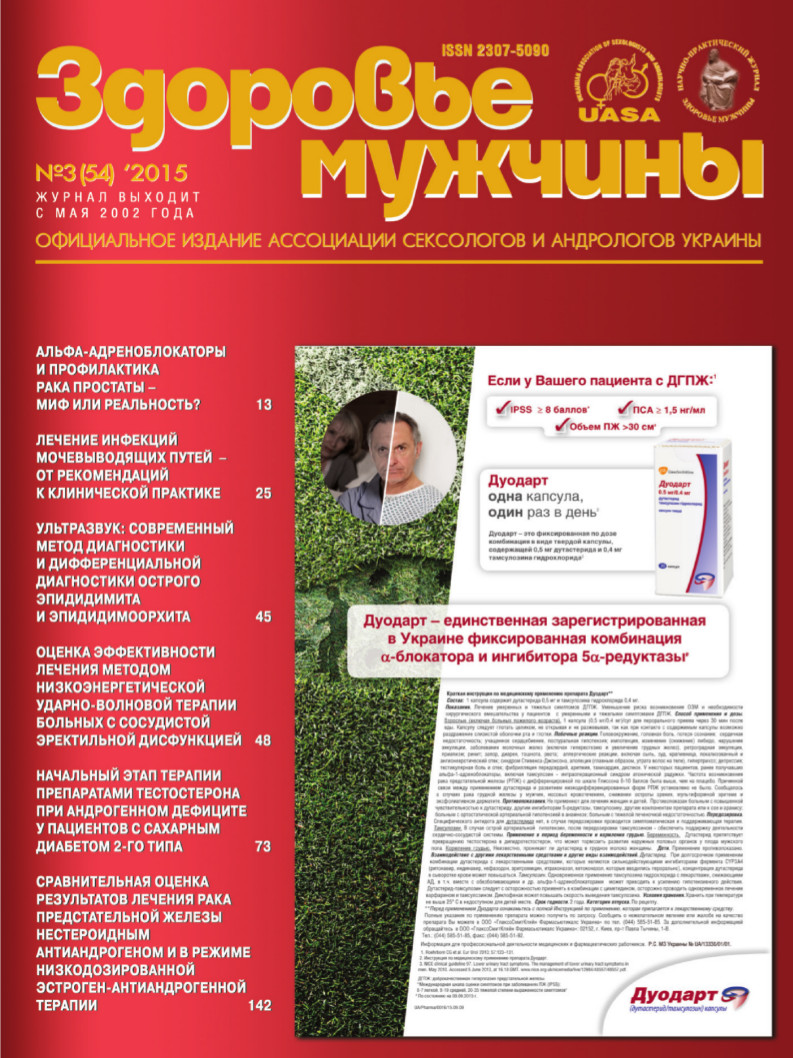 Downloads
Section
Sexology and andrology
License
Copyright (c) 2020 Є. А. Литвинець, О. Р. Вінтонів
This work is licensed under a Creative Commons Attribution-NonCommercial-NoDerivatives 4.0 International License.
The journal does not require authors of original (primary) research papers to assign the copyright of their published contributions. Authors grant the journal an non-exclusive licence  CC BY 4.0 (Creative Commons Attribution 4.0 International License) to using and the first publication of the original in this journal. Copyright of the manuscripts is retained by the authors, after publication authors retain rights to reuse their papers in their future printed work without first requiring permission from the publisher of the journal and share their own published articles.
The journal supports the self-archiving process. Prior to publication in the journal, authors may post a copy of their manuscript in preparation or submitted to the journal in recognized non-commercial preprint servers, public websites.  Authors also are encouraged to archive their final author version of the manuscript in their institution's repositories and, if they wish, on their personal websites. Authors should cite the publication reference and DOI number on the first page of any deposited version, and provide a link from it to the URL of the published article on the journal's website.
To facilitate self-archiving of original research papers and help authors fulfil funder and institutional mandates, the journal deposits manuscripts in National Library of Ukraine by V.I. Vernadsky, Scientific periodicals of Ukraine database and different international scintificd database on behalf of authors who opt-in to this free service during submission. The journal provides depositing of articles on official website of the publisher. The full text access to published papers is free.