Features of clinical characteristics of the men with sexual disorders, observed pre- and post-surgical treatment of benign prostatic hyperplasia
Keywords:
clinical characteristics, benign prostatic hyperplasia, sexual disorders
Abstract
The paper shows the features of the clinical characteristics of men with sexual dysfunction were observed before and after surgical treatment of benign prostatic hyperplasia. Also it is shown that patients with symptoms of urinary disorders and sexual disorders suffer physical and mental health components. It was found that men who have benign prostatic hyperplasia and sexual disorders and receive medication, most often satisfied with sexual intercourse, and general sexual life against those who underwent surgery, which is associated with preservation of a greater number of them orgasmic function and sexual desire.
References
Антонян И.М. Симптомы нижних мочевых путей. Как улучшить результаты лечения / И.М. Антонян // Здоровье мужчины. – 2008. – No 1. – С. 127–130.
Горпинченко І.І. Eректильна дисфункція та пов'язана зі здоров'ям якість життя / І.І. Горпинченко, Д.З. Воробець, П.Л. Свердан // Здоровье мужчины. – 2010. – No 1 (32). – С. 54–60.
Горпинченко И.И. Реальная практика выбора тактики лечения пациентов с доброкачественной гиперплазией предстательной железы в Украине и ее соответствие международным протоколам / И.И. Горпинченко, В.И. Зайцев, М.В. Криштопа // Здоровье мужчины. – 2011. – No 3 (38). – С. 10–13.
Горпинченко И.И. Лечение пациентов с симптомами нижних мочевых путей и с эректильной дисфункцией / И.И. Горпинченко // Здоровье мужчины. – 2012. – No 1 (42). – С. 14–17.
Горпинченко И.И. Современные тенденции комплексной терапии пациентов с эректильной дисфункцией и симптомами нижних мочевых путей на фоне доброкачественной гиперплазии предстательной железы / И.И. Горпинченко, А.М. Сытенко // Здоровье мужчины. – 2016. – No 1 (56). – С. 110–113.
Горпинченко І.І. Можливості впливу фітокорекції на пригнічення процесів доброякісної гіперплазії передміхурової залози в осіб із супутніми хронічними захворюваннями передміхурової залози / І.І. Горпинченко, Ю.М. Гурженко, В.В. Спиридоненко // Здоровье мужчины. – 2016. – No 1 (56). – С. 121–126.
Горпинченко І.І. Eректильна дисфункція: етіологія, патогенез, діагностика та методи лікування / І.І. Горпинченко, А.М. Ситенко // Здоровье мужчины. – 2016. – No 2 (57). – С. 6–8.
Пушкарь Д.Ю. Нарушение мочеиспускания и сексуальной функции у больных ДГПЖ / Д.Ю. Пушкарь, П. Раснер // Врач. – 2003. – No 6. – С. 34–36.
Пушкарь Д.Ю. Анализ результатов эпидемиологического исследования распространенности эректильной дисфункции в РФ / Д.Ю. Пушкарь, А.А. Камалов, С.Х. Аль(Шукри, А.А. Еркович [и др.] // Урология. – 2012. – No 6. – С. 5–9.
Раснер П.И. Оценка эффективности и безопасности лечения Дальфазом СР больных симптоматической аденомой предстательной железы / П.И. Раснер, Д.Ю. Пушкарь // Урология. – 2013. – No 3. – С. 34–38.
Камалов А.А. Комбинированное лечение больных эректильной дисфункцией, страдающих расстройствами мочеиспускания / А.А. Камалов, Б.Е. Осмоловский, Д.А. Охоботов, Л.А. Ходырева [и др.] // Урология. – 2013. – No 3. – С. 29–33.
Верткин А.Л. Доброкачественная гиперплазия предстательной железы и ее осложнения в общемедицинской практике / А.Л. Верткин, О.Б. Лоран, Е.И. Вовк, О.Н. Зимин [и др.] // Здоровье мужчины. – 2011. – No 4 (39). – С. 16–19.
Верткин А.Л. новая Левитра в лечении эректильной дисфункции / А.Л. Верткин, Л.Ю. Моргунов // Урология. – 2012. – No 6. – С. 100–104.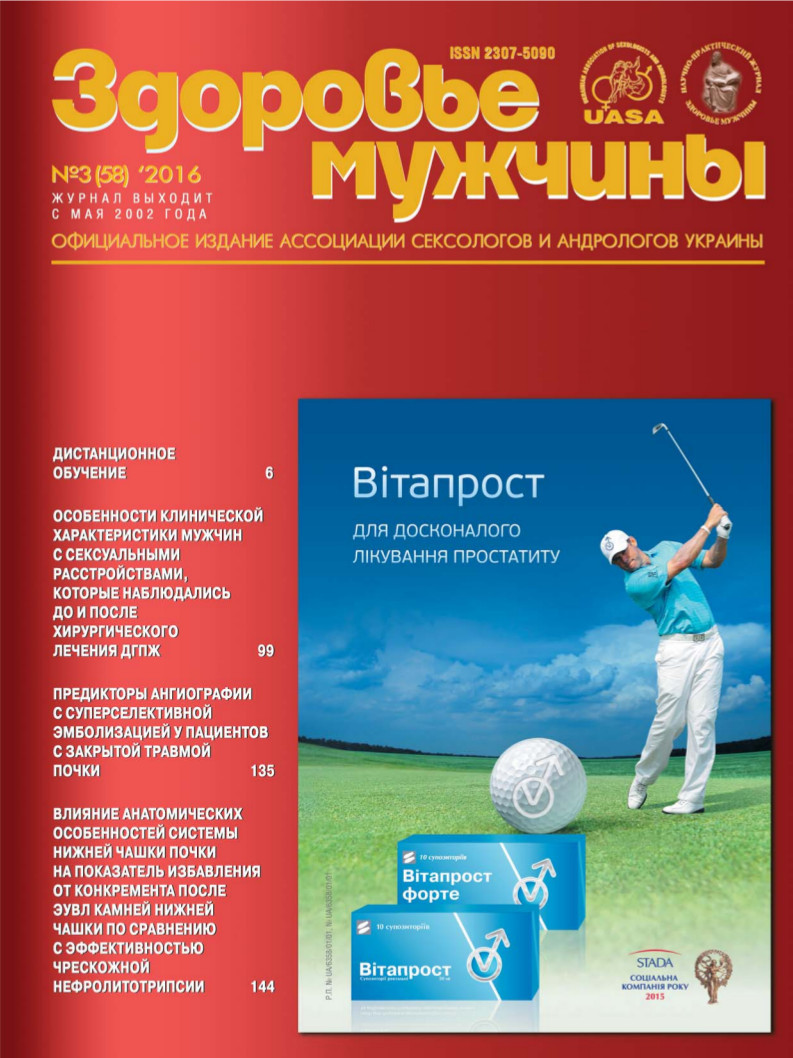 Downloads
Section
Sexology and andrology
License
Copyright (c) 2020 Ю. М. Гурженко, М. Д. Квач
This work is licensed under a Creative Commons Attribution-NonCommercial-NoDerivatives 4.0 International License.
The journal does not require authors of original (primary) research papers to assign the copyright of their published contributions. Authors grant the journal an non-exclusive licence  CC BY 4.0 (Creative Commons Attribution 4.0 International License) to using and the first publication of the original in this journal. Copyright of the manuscripts is retained by the authors, after publication authors retain rights to reuse their papers in their future printed work without first requiring permission from the publisher of the journal and share their own published articles.
The journal supports the self-archiving process. Prior to publication in the journal, authors may post a copy of their manuscript in preparation or submitted to the journal in recognized non-commercial preprint servers, public websites.  Authors also are encouraged to archive their final author version of the manuscript in their institution's repositories and, if they wish, on their personal websites. Authors should cite the publication reference and DOI number on the first page of any deposited version, and provide a link from it to the URL of the published article on the journal's website.
To facilitate self-archiving of original research papers and help authors fulfil funder and institutional mandates, the journal deposits manuscripts in National Library of Ukraine by V.I. Vernadsky, Scientific periodicals of Ukraine database and different international scintificd database on behalf of authors who opt-in to this free service during submission. The journal provides depositing of articles on official website of the publisher. The full text access to published papers is free.