Evaluation of men psychoemotional sexual disorders and symptoms of lower urinary tract
Keywords:
benign prostatic hyperplasia, sexual disorders, psycho-emotional state
Abstract
This paper evaluated the emotional state of men with sexual disorders and symptoms of lower urinary tract.
References
Неймарк А.И. Взаимосвязь психоэмоциональных и эректильных дисфункций у мужчин, подвергшихся коронарному шунтированию / А.И. Неймарк, Е.В. Помешкин, Е.В. Тавлуева, О.Л. Барбараш, С.А. Помешкина // Здоровье мужчины. – 2011. – No 4 (39). – С. 13–15.
Smith D.P. Relationship between lifestyle and health factors and severe lower urinary tract symptoms (LUTS) in 106,435 middle aged and older Australian men: population based study / D.P. Smith, M.F. Weber, K. Soga, R.J. Korda, G. Tikellis [et al.] // PLoS One. – 2014. – V. 9 (10). – P. 109–278.
Zeng H.Q. Psychological factors and erectile function in men with refractory chronic prostatitis / H.Q. Zeng, C.H. Zhang, G.C. Lu [et al.] // Zhonghua Nan Ke Xue. – 2008. – V. 14 (8). – P. 728–730.
Горпинченко І.І. Зв'язок показників анкет Міжнародного індексу еректильної функції, ЕД ПЗ з пов'язаною зі здоров'ям якістю життя, в залежності від тяжкості еректильної дисфункції / І.І. Горпинченко, Д.З. Воробець // Здоровье мужчины. – 2010. – No 1 (52). – С. 31–41.
Горпинченко І.І. Кореляційні зв'язки між показниками анкет Міжнародного індексу еректильної функції, ЕДПЗ та пов'язаної зі здоров'ям якості життя / І.І. Горпинченко, Д.З. Воробець // Здоровье мужчины. – 2010. – No 3 (54). – С. 26–31.
Фещенко Ю.І. Процедура адаптації міжнародного опитувальника оцінки якості життя МОS SF 36 в Україні / Ю.І. Фещенко, Ю.М. Мостовой. Ю.В. Бабійчук // Укр. пульмонологічний журнал. – 2002. – No 3. – С. 9–11.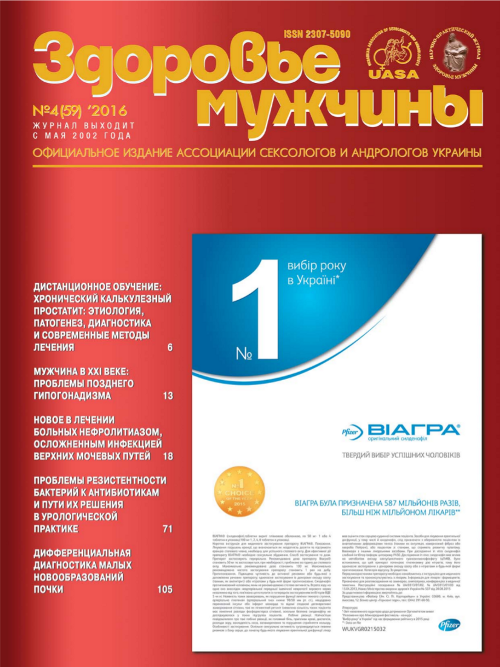 Downloads
Section
Sexology and andrology
License
Copyright (c) 2020 Ю. М. Гурженко, М. Д. Квач
This work is licensed under a Creative Commons Attribution-NonCommercial-NoDerivatives 4.0 International License.
The journal does not require authors of original (primary) research papers to assign the copyright of their published contributions. Authors grant the journal an non-exclusive licence  CC BY 4.0 (Creative Commons Attribution 4.0 International License) to using and the first publication of the original in this journal. Copyright of the manuscripts is retained by the authors, after publication authors retain rights to reuse their papers in their future printed work without first requiring permission from the publisher of the journal and share their own published articles.
The journal supports the self-archiving process. Prior to publication in the journal, authors may post a copy of their manuscript in preparation or submitted to the journal in recognized non-commercial preprint servers, public websites.  Authors also are encouraged to archive their final author version of the manuscript in their institution's repositories and, if they wish, on their personal websites. Authors should cite the publication reference and DOI number on the first page of any deposited version, and provide a link from it to the URL of the published article on the journal's website.
To facilitate self-archiving of original research papers and help authors fulfil funder and institutional mandates, the journal deposits manuscripts in National Library of Ukraine by V.I. Vernadsky, Scientific periodicals of Ukraine database and different international scintificd database on behalf of authors who opt-in to this free service during submission. The journal provides depositing of articles on official website of the publisher. The full text access to published papers is free.