Efficacy and tolerability of dietary supplement Catharsis Forte in patients with erectile dysfunction
Keywords:
erectile dysfunction, treatment, dietary supplement, Catharsis Forte
Abstract
Objective: to evaluate the efficacy and tolerability of the dietary sup plements (DS) Catharsis Forte in patients with erectile dysfunction (ED).

Patients and methods. The sample population consisted of 30 patients with ED (EF IIEF = 17,6±0,16) and a mean age of 50±8  years. Effect of DS Catharsis Forte on erectile function was assessed using the EF IIEF total score and domains. Libido, orgasm, satisfac tion with sexual intercourse and sexual life in general to change the IIEF questionnaire respective domains. Treatment course: DS Catharsis Forte 1 capsule per os 1 time a day for 30 days.

Results. After 30 days of treatment DD Catharsis Forte in the group of patients with ED we registered a statistically significant and clinically meaningful improvement in the basic IIEF domains characteriz ing erection, libido, orgasm, satisfaction with sexual intercourse and sexuality in general. DS Catharsis Forte significantly (by an average of 10,4 points, p<0,05) increased the integral index of erectile function –  total score EF IIEF, improves the ability of the patient to carry out introjection and maintain an erection sufficient for sexual intercourse, which was confirmed by an increase in the average values of the relevant questions of EF IIEF scale from 1,5 to 1,9 points. DS Catharsis Forte was well tolerated: adverse events occurred in patients receiving only one third of patients and limited transient tachycardia, facial flushing, nasal congestion (26,7%) and headache (3,3%) were mild and did not They demanded its abolition. No serious side effects were noted. The treatment course of DS Catharsis Forte for 30 days did not lead to pathological changes in the general analysis of blood and urine and blood chemistry.

Conclusion: The results of the study give reason to recommend DD Catharsis Forte for use in andrological practice in the treatment of men with impaired sexual function.
References
Горпинченко И.И. Эректильная дисфункция: диагностика и современные методы лечения // Здоровье мужчины. – 2002. – No 1. – С. 9–11.
Горпинченко И.И., Мирошников Я.О. Эректильная дисфункция. – Л., «Медицина світу», 2003.
Сексология и андрология / Под ред. А.Ф. Возианова, И.И. Горпинченко. – К.: Абрис, 1997. – 880 с.
Capogrosso P., Colicchia M, Ventimiglia E, Castagna G, Clementi MC, Suardi N, Castiglione F, Briganti A, Cantiello F, Damiano R, Montorsi F, Salonia A. One patient out of four with newly diagnosed erectile dysfunction is a young man – worrisome picture from the everyday clinical practice. J Sex Med. – 2013 Jul;10(7):1833–41.
Hatzimouratidis K., Hatzichristou D. Phosphodiesterase type 5 inhibitors: unmet needs. //Curr. Pharm. Des. 2009; 15(30): 3476–85.
Jiann B.P., Yu C.C., Su C.C., Tsai J.Y. Compliance of sildenafil treatment for erectile dysfunction and factors affecting it. Int J Impot Res. 2006 Mar Apr;18(2):146–9.
Drewes SE, George J, Khan F. Recent findings on natural products with erectile dysfunction activity //Phytochemistry. 2003 Apr; 62(7): 1019–25.
Методичні рекомендації з клінічних випробувань лікарських засобів в Україні. – К.: МОРІОН, 1999. – C. 1–74.
Capelleri J.C., Rosen R.C., Smith M.D., Quirk F., Maytom M.C., Mishra A., Osterloh I.H. Some developments on the International Index of Erectile Dysfunction (IIEF) // Drug Information Journal, 1999. – Vol. 33. – Р. 179–190.
Rosen R.C., Riley A., Wagner G. et al. The International Index of Erectile Function (IIEF): a multidimensional scale for assessment of erectile dysfunction // Urology. – 1997. – V. 49. – P. 822–830.
Гланц С. Медико-биологическая статистика. Пер. с англ. – М.: Практика, 1998. – 459 с.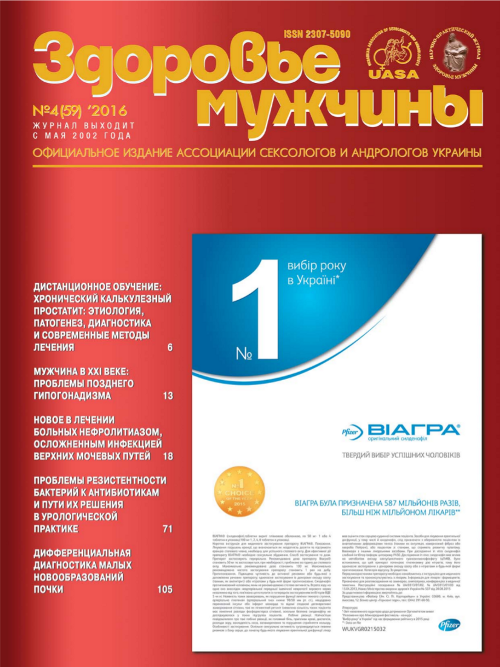 Downloads
Section
Sexology and andrology
License
Copyright (c) 2020 І. І. Горпинченко, А. М. Ситенко
This work is licensed under a Creative Commons Attribution-NonCommercial-NoDerivatives 4.0 International License.
The journal does not require authors of original (primary) research papers to assign the copyright of their published contributions. Authors grant the journal an non-exclusive licence  CC BY 4.0 (Creative Commons Attribution 4.0 International License) to using and the first publication of the original in this journal. Copyright of the manuscripts is retained by the authors, after publication authors retain rights to reuse their papers in their future printed work without first requiring permission from the publisher of the journal and share their own published articles.
The journal supports the self-archiving process. Prior to publication in the journal, authors may post a copy of their manuscript in preparation or submitted to the journal in recognized non-commercial preprint servers, public websites.  Authors also are encouraged to archive their final author version of the manuscript in their institution's repositories and, if they wish, on their personal websites. Authors should cite the publication reference and DOI number on the first page of any deposited version, and provide a link from it to the URL of the published article on the journal's website.
To facilitate self-archiving of original research papers and help authors fulfil funder and institutional mandates, the journal deposits manuscripts in National Library of Ukraine by V.I. Vernadsky, Scientific periodicals of Ukraine database and different international scintificd database on behalf of authors who opt-in to this free service during submission. The journal provides depositing of articles on official website of the publisher. The full text access to published papers is free.