Experience of surgical treatment of patients with complicated stricture and obliteration of the urethra
Keywords:
urethra, complicated urethral stricture, surgical treatment, open urethroplasty
Abstract
The results of 1284 surgical correction of urethral stricture and its obliteration for the period 2003–2016 years in 895 patients were reviewed retrospectively. The open uretрroplasty performed in 72 (5,6%) patients with long (>2 sm) urethral strictures and its obliteration. These patients were divided into 4 groups: 1st - augmentation buccal mucosa urethroplasty – 15 (20,8%), 2nd – urethro-urethro- or urethro-prostatоanastomosis – 39 (54,2%), 3rd – substitution skin and fascial flap urethroplasty – 8 (11,1%), 4th – substitution buccal mucosa-graft urethroplasty – 10 (13,9%). The average length of strictures was in 1st gr. – 2,2±0,1 sm; 2nd gr. - 3,3±0,8 sm; 3rd gr. – 3,3±0,9 sm аnd 4th gr. – 5,3±0,8 sm. An average difficulty grades of urethra strictures in 1, 2, 3, 4 groups were: 6,2±0,3; 6,8±0,7; 6,7±0,8; 9,1±0,9 he average length of recovery period of independent urination was: 1st gr. – 19,3±07 days, 2nd gr. – 16,6±0,7, 3rd gr. – 19,4±1,6 and in 4th gr. – 17,1±1,1 days. Complications of open corrections of urethral strictures in the early recovery period (30 days) were: acute urinary retention – 4 (5,5%) observations, orhoepidydymitis – 5 (6,9%), fistula perinealis – 3 (4,2%) (Clavien II). The recurrence of urethral stricture in long-term follow-up we observed in 6 (8,3%) patients (Clavien IIIb), but erectile dysfunction – in 18 (25,0%) (Clavien II-IIIb). Good result of primary open urethroplasty noted in 65 (90,3%) patients, but bad results – in 4 (5,5%), doubtfull results – in 3 (4,2%). The overall effectiveness of primary and redo urethroplasty was – 95,6%, with a mean follow-up – 10,5±2,2 months.
References
Русаков В.И. Хирургия мочеиспускательного канала. – М.: Медицина, 1991. – 270 с.
Мартов А.Г., Ергаков Д.В., Салюков Р.В., Фахрединов Г.А. Отдаленные результаты эндоскопического лечения стриктуры уретры // Урология. – 2007. – No 5. – С. 27–32.
Коган М.И. Стриктуры уретры у мужчин. – М.: Практическая медицина, 2010. – 136 с.
Wong S., Aboumarzouk O., Narahari R. et al. Simple urethral dilatation, endoscopic urethrotomy, and urethroplasty for urethral stricture disease in adult men/ Eur.Urol. – 2012. – Vol. 43. – P. 658–675.
Наказ МОЗ України від 15.06.2007 No 330 «Про удосконалення надання урологічної допомоги населенню України» //http://www.moz.gov.ua/ua/portal/dn_20070615_330.html
Stephen Z. Fadem, M.D., FACP, FASN Charlson Comorbidity Scoring System // http://touchcalc.com/calculators/cci_js
Шамраев С.Н., Козачихина С.И., Мельник В.В. Результат эндоскопического лечения приобретенных стриктур передних и задних отделов уретры / Питання експер.клініч.медицини. – 2013, Том 4 (Вип.17). – С. 304–314.
Шамраев С.Н., Фисталь Э.Я., Данилец Р.О. Тактика лечения электротравм наружных половых органов / Здоровье мужчины. – К., 2006. – No 2. – С. 121–124.
Greenwell T.J., Venn S.N., Mundy A.R. Changing practice in anterior urethroplasty /BJU Intern. – 1999. – Vol. 83. – P. 631–635.
Barbagli G., Romano G., Sansalone S. et al. Italian validation of the English PROM-USS-Q questionnaire in patients undergoing anterior urethroplasty/ Urologia. – 2011. – Vol. 48. – P. 98–107.
Сравнительная оценка применения различных видов открытой уретропластики при длинных стриктурах и облитерациях уретры. С.А. Возианов, И.И. Горпинченко, С.Н. Шамраев // Здоровье мужчины. – К., 2016. – No 1. – С. 78–85.
Clavien PA., Dindo P., Demartines N. Classification of surgical complication. Ann Surg. – 2004. – Vol. 240. – P. 205–213.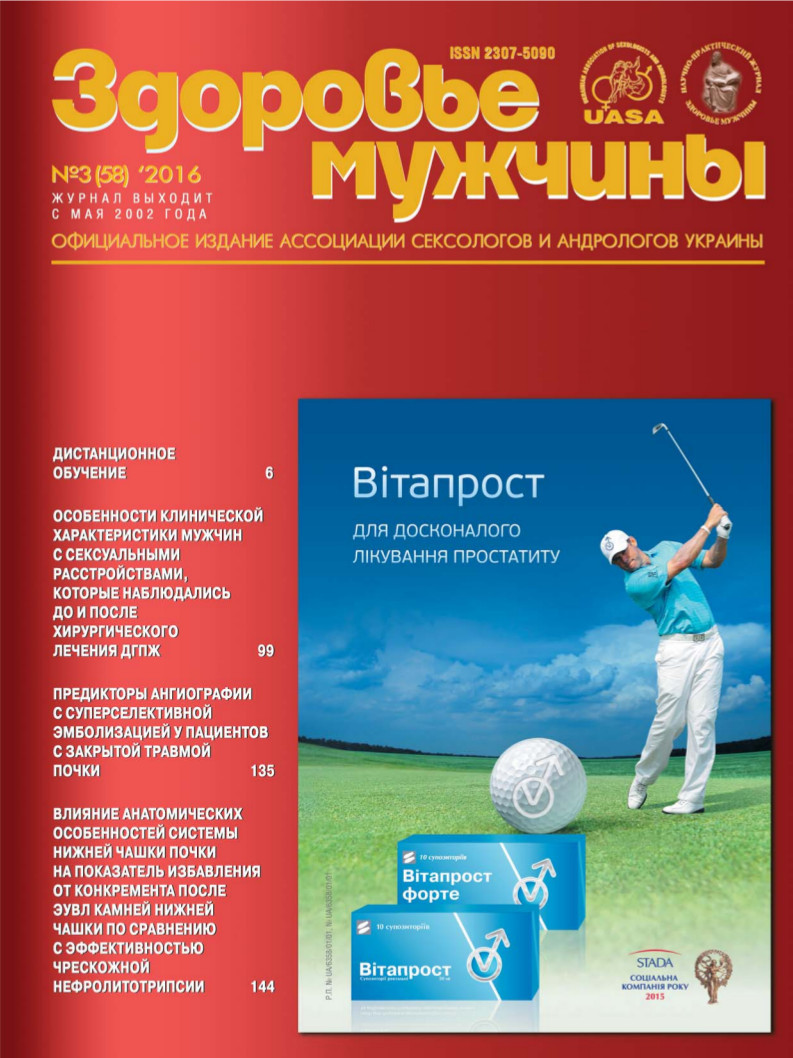 Downloads
License
Copyright (c) 2020 С. О. Возіанов, І. І. Горпинченко, С. М. Шамраєв, І. О. Бабюк, М. А. Рідченко, С. І. Козачіхіна
This work is licensed under a Creative Commons Attribution-NonCommercial-NoDerivatives 4.0 International License.
The journal does not require authors of original (primary) research papers to assign the copyright of their published contributions. Authors grant the journal an non-exclusive licence  CC BY 4.0 (Creative Commons Attribution 4.0 International License) to using and the first publication of the original in this journal. Copyright of the manuscripts is retained by the authors, after publication authors retain rights to reuse their papers in their future printed work without first requiring permission from the publisher of the journal and share their own published articles.
The journal supports the self-archiving process. Prior to publication in the journal, authors may post a copy of their manuscript in preparation or submitted to the journal in recognized non-commercial preprint servers, public websites.  Authors also are encouraged to archive their final author version of the manuscript in their institution's repositories and, if they wish, on their personal websites. Authors should cite the publication reference and DOI number on the first page of any deposited version, and provide a link from it to the URL of the published article on the journal's website.
To facilitate self-archiving of original research papers and help authors fulfil funder and institutional mandates, the journal deposits manuscripts in National Library of Ukraine by V.I. Vernadsky, Scientific periodicals of Ukraine database and different international scintificd database on behalf of authors who opt-in to this free service during submission. The journal provides depositing of articles on official website of the publisher. The full text access to published papers is free.